(BWNS 16 Sep 2010)
.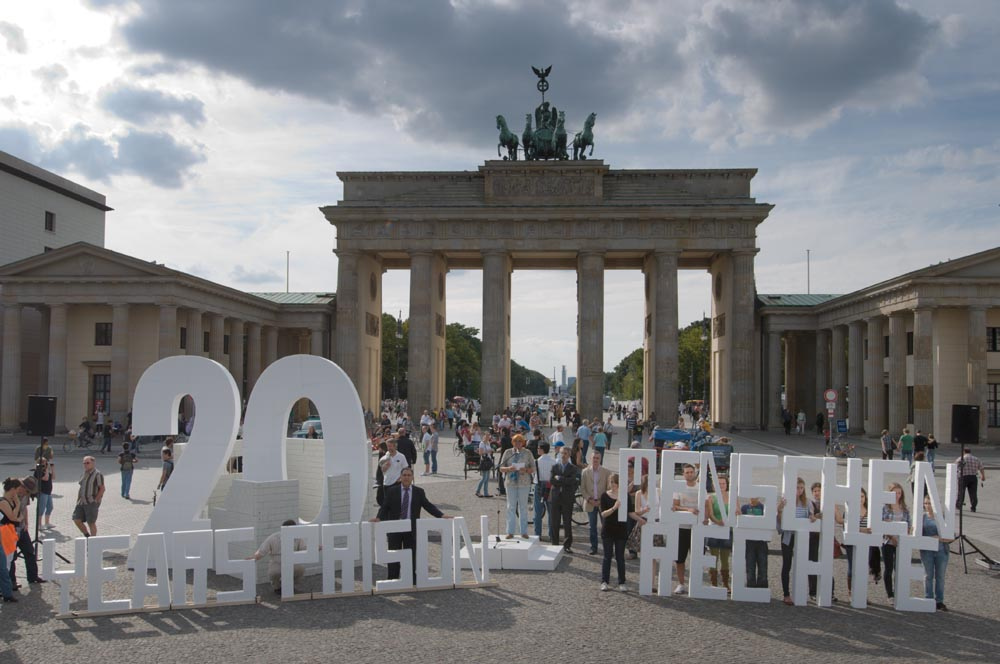 GENEVA — The call to release seven Iranian Baha'i leaders – whose prison sentences have reportedly been reduced to 10-years each – is spreading around the world.
Prominent figures in India, medical professionals in Austria, a Muslim leader in El Salvador and human rights activists in Germany have added their voices to the concern already expressed by numerous governments and non-governmental organizations who have publicly condemned the sentences.
In an open letter, 31 leading figures from India's religious communities, judiciary, civil society organizations and academia, wrote that the "only crime that these seven individuals – two women and five men, the oldest among them being 77 years old – have committed is that they are Baha'is. They are peace-loving and obedient to the law of their land and have worked for the betterment of Iranian society."
The letter, dated 31 August, was sent by Maja Daruwala, the Director of the Commonwealth Human Rights Initiative, to the Ambassador of the Islamic Republic of Iran to India.
"India and Iran have had historic ties of language, poetry, architecture, music and religion," the letter said. "In the name of these ancient ties that bind our two nations, we call on the Government of Iran to act according to the provisions of the International Covenant on Civil and Political Rights which it has ratified. These provisions mandate the upholding of the principles of justice and freedom – principles cherished by all great religions of the world and all nations."
"In speaking up for these seven Baha'i leaders we are therefore also standing up for the 300,000 Iranian Baha'is, who constitute that country's largest religious minority, whose lives have been blighted and whose progress has been crippled by the injustices that have so systematically and remorselessly been visited upon them," they wrote.
Medical Professionals for Human Rights in Iran
In Austria, a group called Medical Professionals for Human Rights in Iran have also issued an open letter, addressed to Iran's Head of Judiciary, Sadeq Larijani.
The letter – signed by Dr. Ali Gushih, Professor Dr. Sirus Mirza'i and Professor Dr. Mihrdad Baghistaniyan – calls for the "seven leaders of the Baha'i community in Iran" to be released as soon as possible.
Among other requests, the letter asks that the human rights of all Iranian citizens be respected and for a stop to arbitrary arrests and raids on people's homes.
Day of action in Berlin
The sentencing of the seven was also protested at a large gathering held on 12 September in Berlin, Germany, which included participation by some 400 people, including numerous human rights advocates.
In front of the city's historic Brandenburg Gate, Markus Loning, Human Rights Commissioner of the Federal Government of Germany, stressed that the continuous flouting of human rights in Iran cannot be tolerated: "We will not tolerate how in Iran, with its civilization and culture, human rights are still disregarded and trampled upon."
Claudia Roth, chair of Germany's Green Party, called the arrest and conviction of the seven Baha'is, "an act of sheer arbitrariness and nothing else".
Freedom of faith and religion are not acts of "mercy of those in power" or "governmental clemency", said Ms. Roth, but a "cornerstone of the human rights conventions of the present."
Frauke Seidensticker, deputy director of the German Institute for Human Rights, stressed the obligation of the Iranian government to honor its commitments to article 18 of the Universal Declaration of Human Rights. "The Baha'i community is distinguished by speaking out for the human rights not only of its own members but also for others whose human rights are violated. Therefore they deserve our solidarity and our deepest respect," she said.
The event, organised by the human rights network United4Iran, included the display of messages of solidarity, spelled out in one meter high letters.
Other action
Sheikh Abderrahman Agdaou of El Salvador's Muslim community has also spoken up for the seven prisoners. In a message posted on 9 August on a personal, online social network page, Sheikh Abderrahman wrote of his hope that the seven would be freed, and that the Iranian authorities would be illumined "so that these persons may live free as God created them."
In Australia, the Australian Partnership of Religious Organizations (APRO) added its support to "deep concern" already expressed by the Australian government at the sentencing of the Baha'i leaders.
"We call on the Iranian government to respect and protect the right of all Iranians, including Baha'is and other religious minorities, to profess and practise the religion of their choice," APRO wrote on 8 September.
There has also been extensive press coverage of the sentence around the world.
An opinion piece published on 29 August in the European edition of the Wall Street Journal, titled "Why Iran's Bahai Matter", said: "For more than three decades, the Bahai have formed the ground zero for repression in Iran. Rights groups say there is no evidence for the charges against the Bahai leaders, though Tehran's accusations should tell you all you need to know about who they are. The followers of this 19th-century religion hold unity among peoples as their main tenet. That, combined with their spiritual base in Israel, has made them the heretics that ayatollahs love to hate."
An article by American journalist Roxana Saberi – who was charged and imprisoned after allegations of espionage in Iran – praised the courage and spirit of the two women among the jailed Baha'i leaders. Ms. Saberi shared a cell with Mahvash Sabet and Fariba Kamalabadi in Tehran's Evin Prison early last year.
"I came to see them as my sisters, women whose only crimes were to peacefully practice their religion and resist pressure from their captors to compromise their principles," wrote Ms. Saberi.
"They felt it their duty to serve not only Bahais but all Iranians…," wrote Ms. Saberi in The Washington Post on 28 August . "I know that despite what they have been through and what lies ahead, these women feel no hatred in their hearts. When I struggled not to despise my interrogators and the judge, Mahvash and Fariba told me they do not hate anyone, not even their captors."
The seven Baha'i leaders – Fariba Kamalabadi, Jamaloddin Khanjani, Afif Naeimi, Saeid Rezaie, Mahvash Sabet, Behrouz Tavakkoli, and Vahid Tizfahm – denied all the allegations made against them which included espionage, propaganda against the Islamic republic and the establishment of an illegal administration.
They are now incarcerated in Gohardasht prison in Karaj, some 20 kilometers west of Tehran.
The governments of Australia, Canada, France, Germany, the Netherlands, New Zealand, United Kingdom and United States of America, as well as the European Union and the President of the European Parliament, earlier condemned the harsh sentences received by the seven.
Groups focused specifically on human rights have also launched letter-writing campaigns encouraging supporters to call for justice. See http://news.bahai.org/story/787,http://news.bahai.org/story/788 and http://news.bahai.org/story/790.
Special Report – "The Trial of the Seven Baha'i Leaders"
The Baha'i World News Service has published a Special Report which includes articles and background information about the seven Iranian Baha'i leaders – their lives, their imprisonment, trial and sentencing – and the allegations made against them. It also offers further resources about the persecution of Iran's Baha'i community.
The International Reaction page of the Baha'i World News service is regularly updated with responses from governments, nongovernmental organizations, and prominent individuals. TheMedia Reports page presents a digest of media coverage from around the world.
—
Source: http://news.bahai.org/story/794