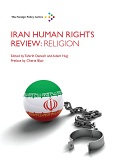 Iran Human Rights Review: Religion
edited by Tahirih Danesh and Adam Hug Preface by Cherie Blair
The Iran Human Rights Review is a new Foreign Policy Centre project that seeks to be an important resource for policymakers and activists that combines information and analysis with recommendations for action.
This inaugural edition of the review focuses on the critical issue of religion in relation to human rights in Iran. It contains short essays from some of the world's leading experts on Iranian human rights: Dr Shirin Ebadi, Dr Fatemeh Haghighatjoo, Dr Shireen Hunter, Dr Abdol-Karim Lahidji, Hamid Hamidi, Dr Hossein Ladjevardi, Dr Wahied Wahdat-Hagh, and John Weston MP. Cherie Blair has kindly provided a preface.
—

Source: http://fpc.org.uk/publications/ihrrreligion
download the pdf from FPC, or here: Iran Human Rights Review: Religion