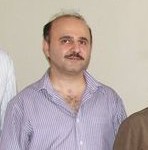 (RAHANA – 30 Oct 2010) The violation of Baha'i rights in the past week included the following: The 3 year prison sentence of a Baha'i citizen was upheld, 2 Baha'i citizens began serving their 5 year prison terms, and pressure intensified on Baha'i women in Mashhad Prison.
The following report contains the Baha'i rights violations in late October.
October 23rd
The 3 Year Prison Sentence Upheld for the Baha'i Resident of Semnan
The appeals court upheld the 3 year prison sentence for Semnan Baha'i citizen Siamak Ighani. He had been charged with Baha'i and anti-regime propaganda.
October 24th
Two Baha'i Residents of Mashhad Began Serving Sentence
Two Baha'i residents of Mashhad appeared at the Vakilabad Prison in order to begin serving their sentence.
According to the RAHANA reporter, Jalayer Vahdat and Sima Eshraghi, two Baha'i citizens of Mashhad, who had been held in solitary confinement and had been temporarily released on a $150,000 bail, were transferred to the Vakilabad Prison in order to begin serving their 5 year prison terms.
The House and Store of a Sari Baha'i Citizen Searched
The security forces appeared at the store of Sari Baha'i Citizen Omid Ghanbari and went to his house along with him. They searched his house and confiscated his computer, CDs and some of his personal belongings.
It is important to note that they were insulting the Baha'i faith during the search.
October 27th
Pressure Intensified on Baha'i Women in Mashhad Prison
According to reports, Nasrin Ghadiri, Nahid Ghadiri, Sima Rajabian, and Rozita Vaseghi who were previously confined in the prison's political ward have been transferred to the "Punishment Section" of Prison.
—

Source: http://www.rahana.org/en/?p=7828