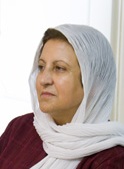 Editor's Note: Though the wave of attacks on the office and home of Ms. Ebadi is not directly related to the Baha'i community, however as this unfortunate turn of event represents a clear violation of human rights, especially perpetrated against the most prominent civil rights activists in Iran who has championed the rights of all minorities in that country, including the Baha'is, Iran Press Watch wishes to bring the following news items to the attention of its readers.
On 29 December 2008, the online site Change for Equality reported:
On Monday December 29, 2008 at 5:30 in the afternoon the private law office of Shirin Ebadi, Nobel Peace Prize Winner, Lawyer and human rights defenders was stormed by 5 security officers identifying themselves as tax officials, who presented a letter allowing them to take two computers and other documents.


Shirin Ebadi has however refused to surrender her case files and computers to these officials citing that the confidential nature of the work of lawyers, especially human rights lawyers, and claiming that the act of surrendering client files to government officials would breach that confidentiality. These security officials are presently in Ms. Ebadi's private law office and engaged in search of the premises and seizure of property.

This latest assault takes place following the closure of the Defenders of Human Rights Center on December 21, which provides free legal advice and support to human rights defenders and of which Ebadi is a founding member. A few days following the closure of the Center, tax officials had gone to Ebadi's private practice making inquiries about her income and tax payments. Ms. Ebadi was extremely cooperative during this inquiry, so much so that tax officials thanked her for her cooperative approach. These officials examined computers and other documents in Ebadi's office and announced that since there were no documents related to her income or tax payment they would not remove any documents or computers from the office. Despite this development, on the following day, Mehr News Agency, announced in a report that Shirin Ebadi had failed to pay her taxes. This news was refuted by Shirin Ebadi. This latest assault seems to be part of an ongoing Campaign of harassment of Shirin Ebadi, human rights defenders as a whole and reflects the worsening situation of human rights in Iran.
On Thursday, 1 January 2009, Public Relations Office of the Defenders of Human Rights Center reported:
On the morning of Thursday January 1, 2009 a group of 150 persons appeared in front of the residence of Ms. Shirin Ebadi chanting the following slogan: "Ebadi supports, Israel slaughters." This group of protesters then proceeded to vandalize the Sign outside the home of Ms. Ebadi and began kicking in the door of the building.

This protest took place despite the fact that Defenders of Human Rights Center had issued a statement condemning the recent violence in Gaza, and demanding a quick international and human rights response. Additionally, members of the Defenders of Human Rights Center, of which Ms. Ebadi is a founding member, as well as Ms. Ebadi herself in various interviews have repeatedly stressed the need to prevent the violence against and the murder of Palestinian citizens and insisted on the ensuring the dignity and rights of Palestinians. This group of protesters was disbursed after police arrived on the scene.

A few days ago on December 29, 2008, 5 security agents claiming to be tax agents went to Shirin Ebadi's private law office, and proceeded to search the premises, seizing two computers and her client case files. The offices of the Defenders of Human Rights Center was also shut down on December 29, 2008, after security agents stormed the premises, searching it and seizing property.
[Sources: http://www.campaign4equality.info/english/spip.php?article424 and http://www.campaign4equality.info/english/spip.php?article432.]