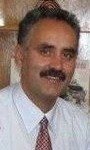 (RAHANA – 7 Nov 2010) Human Rights News Agency of Iran – RAHANA. Semnan Bahá'í citizen Siamak Ighani, begins his 3 year prison sentence.
Siamak Ighani a Bahá'í resident of Semnan was transferred to the City's prison to begin his 3 year prison term.
According to RAHANA News Agency, Siamak Ighani who had previously been sentenced to 3 years in prison charged with 'Teaching the Bahá'í Faith and Propaganda Against the Regime', was transferred to Semnan prison on Saturday November 6th to begin his incarceration.
It should be noted that five other Bahá'í citizens are currently behind bars in Semnan under similar charges.
—


Source: http://www.rahana.org/en/?p=7958