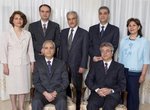 The following report was posted by Iran Press News on Saturday, 3 January 2009:
Seven leading Baha'is in Iran, namely Mahvash Sabet, Fariba Kamalabadi, Afif Naeimi, Saeid Rezaie, Vahid Tizfahm, Jamaloddin Khanjani and Behrouz Tavakkoli, continue to be incarcerated in the high-security section of Evin Prison [in Tehran].

The aforesaid individuals constituted a group that saw to the needs of the Baha'i community of Iran. These Baha'is were arrested on 5 March 2008 and 14 May 2008 by security agents and transferred to Section 209 of Evin Prison, where they have remained since their detention.


The charges against them continue to be unclear and ambiguous, because their lawyer does not have access to their file and also because the prosecutors have spread a great deal of inaccurate and misleading information. As such, these individuals continue to be detained without bond, and their temporary arrest is repeatedly renewed.

Some time ago, after initial investigations were completed, these individuals were transferred from solitary confinement and housed in the general quarters of Section 209 among other prisoners of this prison system. However, towards the end of last month (around mid-December 2008), once again the Ministry of Intelligence removed them from the general population and placed them all in separate cells designated for this purpose, so that they would be separated from other prisoners and in effect have no contact with anyone or be able to interact with the rest of the prison population.

A wave of outrage by the international community and human rights organizations has been provoked by these arrests, by the authorities' persistence in holding these individuals without due process of law and by the prevention of their lawyer from being able to access their file and charges.
[Source in Persian: http://www.iranpressnews.com/source/052091.htm. Translation by Iran Press Watch: The Baha'is.]