(RAHANA 22 Dec 2010) Baha'i citizen Roya Ghanabri who is the sister of Amir Ghanbari, has been detained.
RAHANA: On Monday, Roya Ghanabri, a Baha'i resident of Sari, was detained without a judicial warrant.  On Sunday, 11 security agents searched the house of Fataneh Nouri, the wife of Omid Ghanabri, after showing her arrest warrant.
Roya Ghanbari, Omid Ghanbari's sister, who is currently in detention had appeared at the news unit of the judiciary for questioning and had later contacted her family stating that she had been arrested.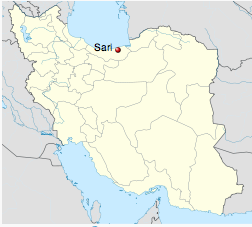 Sari Intelligence Ministry authorities searched the house of Fataneh Nouri's father and father in law and stated that she has been summoned to the Intelligence Ministry for questioning and she also had to deliver the clothes of Roya's brother Omid. When Roya Ghanbari's husband delivered Omid's clothes to the Intelligence Ministry on Monday, the agents threatened that if Roya fails to show up, they will get a judicial arrest warrant.
After searching the house, the Intelligence Ministry contacted Mr. Ghanbari's home 4 times. In his first telephone contact, Omid Ghanbari asked questions about the whereabouts of his wife and in the second telephone call, he asked about the condition of his elderly parents who had witnessed the offensive behavior of the agents. In the other phone calls, the authorities stated that Roya should visit her brother in prison and should respond to several questions.
Eleven security authorities referred to the house of Fataneh Nouri's father and father in law and searched the house of his father in law despite the fact that the warrant had only been issued for her arrest.
During the raid, the authorities insulted the sacred rituals of the Baha'i faith and her family members. They also seized their Baha'i books, a Quran, a receiver and a number of CDs.
—
Source: http://www.rahana.org/en/?p=8665