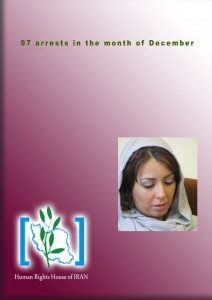 (RAHANA 22 Dec 2010) During December 2010 at least 79 of political, journalists and students were arrested and detained nationwide.
RAHANA reports, during December 7 events (students day) student arrests around the country have increased, 23 of whom have been mentioned in the below table.
Like other months Kurdish activists and citizens have had the highest number of arrests and at least 23 of them have detained following up their arrests.
Arrest of 8 journalists shows the severity of clashes between security agency and the press. 8 journalists have been arrested and detained during the security agency's attack to "Shargh" newspaper.
Religious minorities, especially Baha'i and followers of God have also has 11 arrestees. A Christian citizen had also been arrested, whom was released after a short term in detention.
Families of political prisoners and the victims of the presidential election events have also had several arrests, whom are still in prison.
12 of 79 arrests in the months of December are female.
For view the lists and tables as PDF click on the picture or here.
—
Source: http://www.rahana.org/en/?p=8778