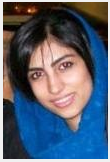 (RAHANA 28 Dec 2010) Dorsa Sobhani, a Baha'i citizen and a member of One Million Campaign, has been sentenced to one year in prison.
Judge Moghayeseh, the presiding judge of Branch 28 of Tehran Islamic Revolutionary Court, has sentenced Dorsa Sobhani to one year of imprisonment. Her charges include "membership in the Baha'i sect", "being a member of the one million signatures campaign", "participation in Human Rights activities", and "presentation of false documents regarding the innocence of three Baha'i prisoners in Shiraz via email".
Dorsa Sobhani's trial was held on December 12, 2010.
Dorsa Sobhani was arrested on March 7, 2010 in her father's home. Following her arrest, she spent 45 days at Evin Detention Center, 27 of which were spent in solitary confinement. She was released on bail on April 21 2010.
—
Source: http://www.rahana.org/en/?p=8842