By Eric Marrapodi, CNN
Washington (CNN) – It is a bad time to be a Baha'i in Iran, American adherents of the faith say.
The religion, founded in Iran in 1844, is now considered heretical by Iranian authorities. Its 300,000 adherents in the country "may face repression on the grounds of apostasy," according to the annual report of the U.S. Commission on International Religious Freedom.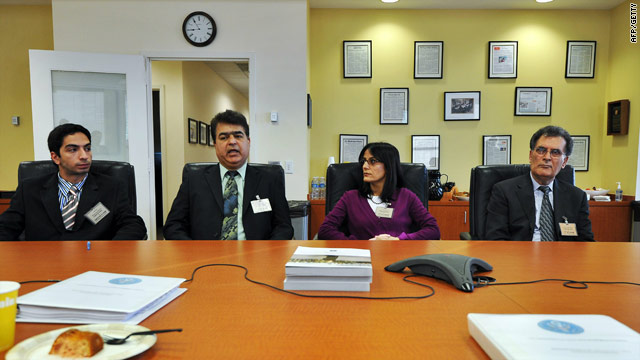 On Wednesday, Iraj Kamalabadi and other Baha'is came to Washington to tell the commission just how bad things are for his sister, Fariba Kamalabadi, and six others who have been imprisoned because of their faith since 2008.
Iraj Kamalabadi was born in Iran and came to the United States for college. He stayed in the U.S. after the Iranian revolution for fear of religious persecution in his homeland. Now he is petitioning his adopted home government to step up the pressure on Iranian authorities.
"Our hope is for the commission to continue to support this within their power and do whatever they could do to shed light on what's going on in Iran with the Baha'i community," he said.
Kamalabadi and others met with the commissioners and reporters to tell their story of how their family members who were Baha'i leaders were arrested, tried and imprisoned on what they called "trumped-up" charges of spying for the United States and Israel.
The Commission on International Religious Freedom is an arm of the federal government. Its commissioners are appointed by the White House and Congress and charged with reviewing violations of religious freedom abroad. They then make recommendations to the president and Congress.
"When the Iranian government brought these trumped-up charges of espionage and other so-called crimes against your brethren, we were outraged but we also were not surprised," said Leonard Leo, the commission chair. "The Iranian government has a horrific record of abusing human rights and in particular the religious freedoms of minorities in Iran and in particular the Baha'is."
In spring 2008 Fariba Kamalabadi was arrested, her brother said. A developmental psychologist by trade, she was a volunteer leader in the Baha'i community. She was convicted in a short trial, "without a shred of evidence," and sent to an extremely primitive prison, Iraj Kamalabadi said.
In his conversations with his sister since, she has described brutal prison conditions. In one wing of the prison there are 177 women and only 37 cells. Two women sleep in bunk beds and the others on the floor, the quarters so tight they cannot even stretch out their legs, Kamalabadi said.
According to the National Spiritual Assembly of the Baha'is of the United States, Baha'is believe the world's religions are linked in a single progressive process and through them all God reveals his will to all people. The founder of their faith, Baha'u'llah, is believed by Baha'is to be the most recent messenger of God in a string of messengers that includes Abraham, Buddha, Christ, Muhammad and others.
And that is where the conflict exists between the Baha'i faith and the religiously devout Islamic Republic of Iran.
"The Baha'i s were Muslim. They created a new form of religion as Muslims. From an Islamic point of view they have renounced their faith," said Gary Sick, an adjunct professor at the Columbia University School of International and Public Affairs.
"It's an Islamic state. If you renounce your religion in the U.S., then that has nothing to with the government. If you have a state like Iran that is governed by clerics and a constitution that defines itself as an Islamic state, then it matters to the state," he said.
In the Iranian Constitution, Sick said, "Iran provides respect for religion for Christians, Jews and on and on but they don't mention Baha'is."
The Baha'i faith has long faced persecution in Iran, according to Anthony Vance, the director of external affairs for the Baha'is in the United States. He joined the group at their meeting with the Commission on International Religious Freedom. There are no professional clergy in the Baha'i faith but in areas where there are a large number of the faithful, members elect a national spiritual assembly who provide guidance and perform religious ceremonies such as weddings and funerals. Vance said such an assembly was formed in Iran in 1979. They
disappeared without a trace, he said.
"Eight of the nine assembly members who replaced them were arrested and executed," Vance told the commission. In 1983, he said, Iranian authorities banned any type of Baha'i administration and no formal leadership has existed in the country since.
Informal groups emerged that the government eventually communicated with. Fariba Kamalabadi was in that informal leadership group.
Iran, denies mistreatment of Baha'is. It also has said repeatedly that followers of the faith are free to live in Iran, but that the seven imprisoned leaders participated in illegal activities against the government.
"It is important for us to cast a light on what is happening." Leo said. "It is outrageous and it is the kind of violation of international human rights standards the international community needs to come down on very hard."
Iraj Kamalabadi hopes his visit with the commission will keep pressure on Iran and keep a spotlight on the plight of his sister and the others. "I don't have the solution in my power," he said. "The ultimate solution would be for the government (of Iran) to stop persecuting the humanitarian-minded Baha'i who have committed no wrongdoing."
—
Source: http://religion.blogs.cnn.com/2011/02/11/bahais-lobby-u-s-commission-to-help-them-survive-in-iran/