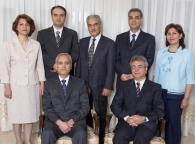 By Michael Day
ABC RELIGION AND ETHICS | 28 MAR 2011
The Baha'i New Year's day on 21 March is usually a time for celebration but for one South Australian Baha'i the festivities this year were tinged with sadness.
Adelaide businessman Amin Tavakkoli spent the day with family and members of his local Baha'i community but he could not help his thoughts turning to his brother Behrouz, who is incarcerated in a crammed cell in a notorious jail in Iran. He has been locked up for his faith for nearly three years.
Before their arrest, Behrouz Tavakkoli, 59, and six colleagues had been serving as leaders of the 300,000 members of the Baha'i Faith in Iran with the knowledge and tacit consent of the authorities.
But then the regime turned, as Mr Tavakkoli describes.
"On 14 May 2008, Behrouz and five of his colleagues were arrested in Tehran without being charged – the seventh member had been arrested two months earlier," he said.
"Since then, these five men and two women have been physically, mentally and emotionally abused. For more than two years they were denied access to lawyers and prevented from defending themselves.
"Then in 2010 they endured a sham trial and were sentenced to 10 years imprisonment. For some of the older ones, this is tantamount to a death sentence."
The charges included espionage, propaganda activities against the Islamic order, and "corruption on earth". The allegations were similar to those leveled against Baha'is in the 1980s when some two hundred members of the faith were killed. Many of these were officially executed by the regime, including teenage girls who were hanged for teaching the equivalent of Sunday school.
Now, as was the case thirty years ago, the charges are widely perceived internationally as spurious. No evidence has been produced to substantiate the allegations.
Amnesty International says the leaders "have done nothing more than peacefully practice their religion". Baha'is point out that the faith's teachings oblige members to obey the laws of the land and not to participate in partisan politics.
It has become clear to the international community that the seven are victims of religious persecution against a faith, founded in Iran in 1844, that teaches the oneness of God, the common foundation of the world religions, that humanity is one family, and that women and men are equal and have equal rights. The unification of humanity in a spirit of justice and love is a key aim.
Baha'is honour the Prophet Muhammad as a Messenger of God, just as they do Jesus and the founders of the other world religions, but are harassed because the founder of their faith, Baha'u'llah (1817-92), appeared subsequently to Muhammad.
They are also persecuted because their world centre is in Haifa/Acre area of the Holy Land. The faith has had its centre there since 1868, long before the establishment of Israel.
Baha'is do not take any partisan political stance but obey the laws like any other good citizen in any country, yet in Iran Baha'is provide handy scapegoats for the unscrupulous.
Condemnations of the sentences were swift from the government of Australia, where there is a strong Baha'i community with members from many different national and ethnic backgrounds.
Others to speak out were the governments of Canada, France, Germany, the Netherlands, the United Kingdom and the United States, as well as the European Parliament and international human rights organisations such as Human Rights Watch.
In Australia, the House of Representatives passed a bipartisan motion in November 2010 condemning the treatment of the seven, and calling for a halt to the persecution of the Baha'i community and an end to other human rights abuses in Iran.
In December 2010, a UN resolution, co-sponsored by the Australian Government, was adopted by the General Assembly, which expressed "deep concern at serious ongoing and recurring human rights violations" in Iran and specifically condemned discrimination against members of the Baha'i Faith.
That discrimination comes in many forms. As well as imprisoning of the seven leaders, the Iranian authorities have led and encouraged widespread persecution of their country's biggest non-Muslim minority, including:
– desecration and destruction of Baha'i cemeteries
– dawn raids, arbitrary detentions, widespread arrests and imprisonment
– defamation via State controlled media
– barring Baha'is from university
– firebombing and closing of businesses
– confiscation of property
– assaults and death threats
– harassment by teachers of Baha'i schoolchildren.
Mr Tavakkoli is not the only Australian Baha'i whose family members are in prison. Perth-based Sharareh Tahooni is desperately worried about her brothers and nephew, who were arrested in January and are being held at an unknown location.
Afshin Ostovar-Ravare of Adelaide is shocked and saddened about the arrest on 2 March 2011 in Kerman of his brother, Saman Ostovar, who has provided humanitarian aid and assistance (including managing a kindergarten) to refugees and orphans from the earthquake-ravaged city of Bam.
Melbournian Rosa Vasseghi dedicates her time to advocacy on behalf of her sister, Rozita, currently serving a five-year term in prison in Mashhad. You don't have to look far in the Australian Baha'i Community to find families devastated by the escalating campaign of persecution.
From Adelaide Mr Tavakkoli is doing what he can to help the situation by speaking out on behalf his brother, the other six leaders and the Iranian Baha'i community generally. He has given media interviews to newspapers, television and radio.
In February last year he addressed Faith leaders, MPs and NGO representatives at a gathering in the NSW Parliament House.
Also present were Roya Kamalabadi of Melbourne and Ghodsieh Samimi of Sydney whose sister and niece respectively are two of the imprisoned Baha'i leaders.
All three delivered impassioned addresses, reducing many in the audience to tears.
Keynote speaker, the eminent jurist John Dowd, said international pressure should be brought to bear on Iran for the release of the seven leaders.
But the demands from the outside world have so far been ignored by Iranian authorities. In March 2011, 79 Iranian Baha'is are currently in prison and the cases of some 303 other Baha'is are still active with authorities. This month one of the leaders, aged 77, was not permitted leave from jail to attend the funeral of his wife of more than fifty years.
Amin Tavakkoli speaks of the Baha'i leaders with admiration:
"I am infinitely proud that the lives of these seven can be held up as an example not only of Baha'i ideals but also, I feel, of what an Iranian citizen can be," Mr Tavakkoli said.
In describing the character of this brother, he points out that he knows him better than anyone.
"We share the same parents, we lived under the same roof for years," he said.
"He is a devoted husband, a father of two sons and a university lecturer and psychologist who has devoted his career to helping mentally and physically ill children."
With the eloquence of the literature teacher he once was, Mr Tavakkoli gives a poignant description of brother's situation as he calls, in the name of justice and humanity, for his beloved brother to be released.
"My brother's hands which once spent their days helping disabled children are now holding the cold bars of a jail cell. His tongue that once gave voice to the vision of a harmonious future for humanity is now silent within the shadows of cold, concrete walls.
"Despite this, his heart that has spent its entire life beating only for the love of humanity continues just as strongly to play a melody of love and hope. My worry is that in the severe conditions of this jail, my brother's heart might become mute."
Michael Day is the national media officer of the Australian Baha'i Community. For more information, visit http://news.bahai.org/human-rights/iran/iran-update/ and www.bahai.org.au.
—


Source: http://www.abc.net.au/religion/articles/2011/03/28/3175766.htm?topic1=home&topic2=