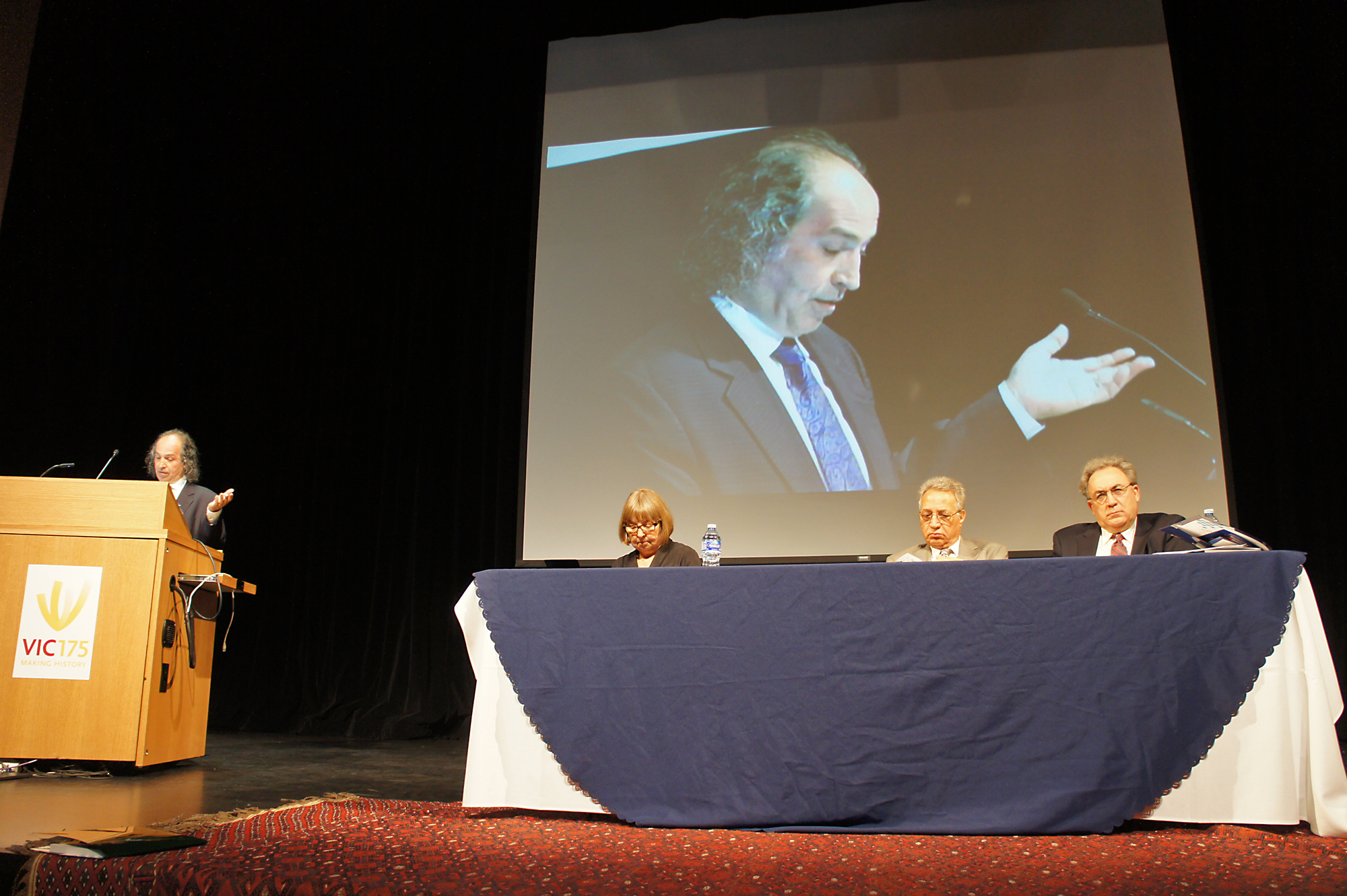 TORONTO — Iranian scholars, many from globally prominent universities, gathered here for a groundbreaking academic conference on the persecution of Iran's Baha'is.
Titled "Intellectual Othering and the Baha'i Question in Iran," the conference examined how Iranian authorities have sought to exclude Baha'is from social, political, cultural, and intellectual life by portraying them as outsiders in their own land – a process known as "othering."
The event, held from 1-3 July, was the first major academic conference at a top-ranked university to focus on the persecution of Iran's Baha'is in any context.
"This conference is not a Baha'i studies conference," said its main organizer Mohamad Tavakoli. "It is an effort to understand the use of repression in the history of modern Iran and how the 'othering' of Baha'is has become a mechanism of mass mobilization for the legitimization of the state and for the creation of political-religious ideology."
Dr. Tavakoli – a well-known scholar on Iran and the Middle East from the University of Toronto – said the idea for the conference came from his own research into the degree to which various Iranian groups had used anti-Baha'i rhetoric and made a scapegoat of Baha'is to gain political power, both in the past and the present.
Within this framework, the talks and papers – presented by scholars from such diverse backgrounds as atheism, Baha'i, Christianity, humanism, Islam and Judaism – ranged across a wide territory: from early efforts to vilify Baha'is by painting them as colonialist agents of the British and Russians, to the use of modern propaganda techniques that, for example, falsely characterize Iranian Baha'is as part of a cult that uses "brainwashing" techniques to steal away Muslim children.
One presentation described how memoirs and oral histories by clerics have been used to demonize Baha'is since the 1979 Revolution. These memoirs, said Shahram Kholdi – a PhD candidate from the University of Manchester in the United Kingdom – represent a large pool of literature, largely unexamined in the West, which has been used to create a revisionist narrative of the founding of the Islamic Republic, aimed at the faithful.
Attacking Baha'is – often using indirect language – is a frequent theme of these memoirs, said Mr. Kholdi. "Baha'is are often portrayed as foreign agents," he said, explaining that Baha'is are described as part of an external force behind the oppressive measures of the Pahlavi regime. "So they use Baha'is to legitimize their own revolutionary history."
Politicians also frequently used pogroms against Baha'is for political reasons, explained Homa Katouzian, a professor of Oriental Studies at Oxford University, who examined a 1924 incident where an anti-Baha'i demonstration led to the assassination of the American vice consul in Iran. Baha'is were "a particularly soft target," he said.
Historical parallels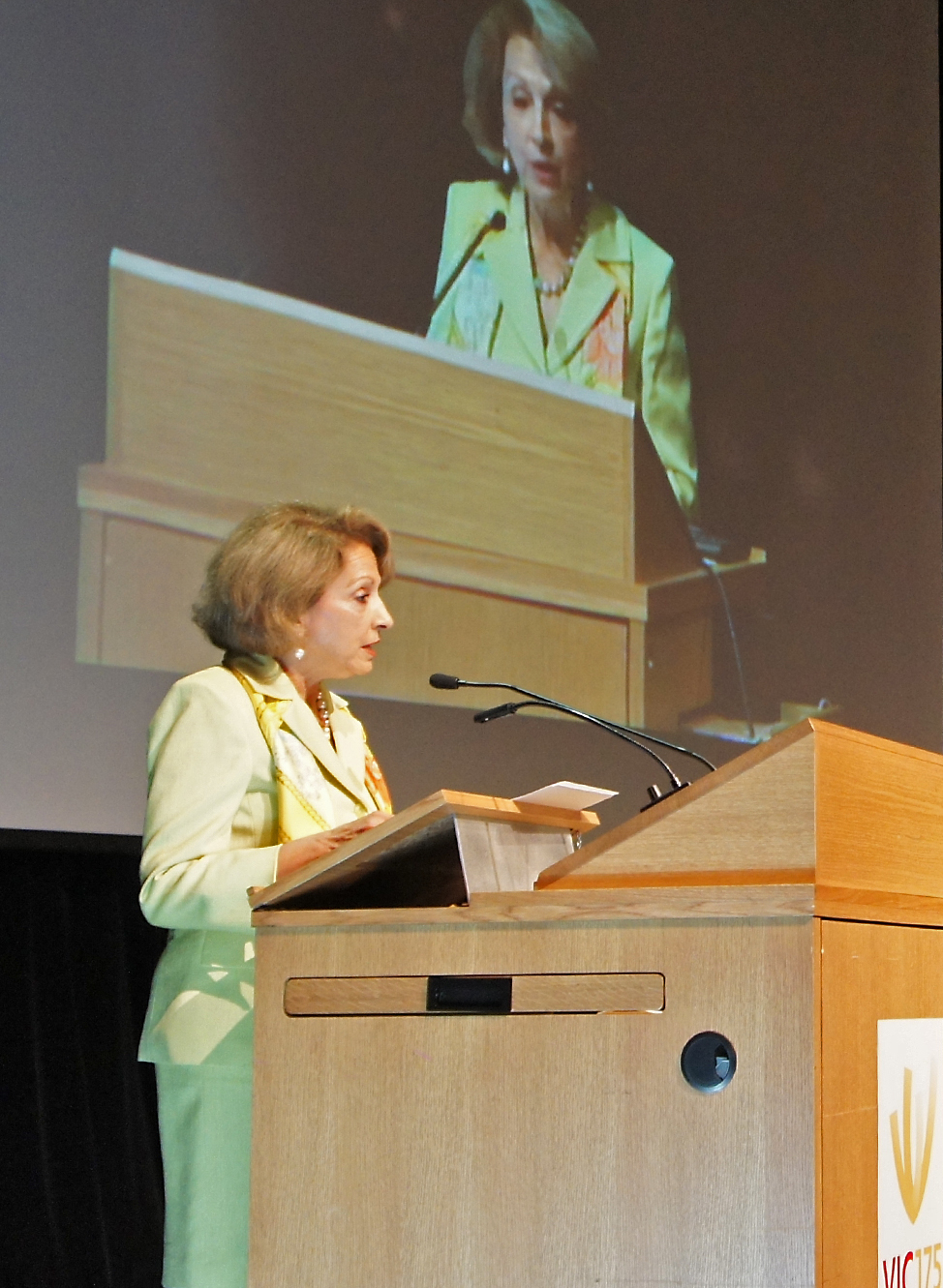 Several speakers made comparisons between the oppression of Iranian Baha'is under the Islamic Republic and other historical efforts to portray a particular religious or ethnic group as outsiders – something that has often led to wider pogroms or worse.
The father of Rhoda Howard-Hassmann – a professor of international human rights at Wilfrid Laurier University in Canada – was a Jewish refugee who fled Nazi Germany. Professor Howard-Hassmann said the descriptions she heard at the conference about abuses directed against Baha'is were all too familiar.
"The talk of the desecration of graves, the conspiracy theories, …the accusation that they are a cult that is stealing children – these are all characteristics of extreme retribution, if not pre-genocide," she said.
"This is a political phenomenon, caused by a regime and its manipulation of political beliefs. It is not something that simply exists among the people."
In his talk, Ahmad Karimi-Hakkak, a professor of Persian studies at the University of Maryland, examined the destruction of Iran's Baha'i holy places and properties. He recounted a long list of Baha'i sites that have been destroyed – from village Baha'i centres in the late 19th century to the House of the Bab, one of the most sacred Baha'i sites in the world, which was razed by mobs incited by Muslim clerics, shortly after the Islamic Revolution.
Professor Karimi-Hakkak compared such demolitions to attacks on other major religious sites, for example the Buddhas of Bamiyan in Afghanistan, saying that their purpose was often to assert the power of the majority over the minority, and to place the minority in the category of the "other."
When a Shiite believer destroys buildings or graves, he said "they demonstrate that religious minorities must obey them and they have no power to protect their holy sites or their revered graves."
Other scholars made references to pogroms against the Ottoman Armenians and against Orthodox Christians in Soviet Russia.
Contemporary relevance
The relevance of the "Baha'i question" to larger issues of religious intolerance and political repression worldwide was also explored, as participants considered what lessons can be learned from the Baha'i experience.
Several contributors said they believed that the Baha'i case now exemplifies the increasing oppression that is being felt by all Iranians, especially since the crackdown that followed the 2009 presidential election. This has led many ordinary Iranians to sympathize and identify with Baha'is, they said.
"I think the atrocities committed against the Baha'is are being intuitively registered and included among the most significant cases of human rights violations in Iran," said Reza Afshari, a professor of history at Pace University in New York. "At last, this has led to a growing recognition that human rights do matter and that their violations are by-products of the country's authoritarian rule and intolerance culture, mediated by the Shiite mullahs' direct intrusions into the realms of national politics."
Ramin Jahanbegloo – a professor of Political Science at the University of Toronto, who himself spent four months in prison in the Islamic Republic of Iran – spoke about the importance of including the Baha'i question in any future effort at national reconciliation. He compared such a process to what happened in South Africa, saying the first step in rebuilding and healing a future Iran would be to forgive – rather than forget.
In this regard, he said, it was important to "bring to light the dark episodes" of Iran's collective life, such as the persecution of Baha'is. "Forgiveness does not mean forgetting," he said.
The conference ended with a talk by noted Iranian human rights lawyer Abdol-Karim Lahidji, who examined several international legal instruments that can be used to protect against the type of discrimination that was the meeting's theme.
Dr. Lahidji spoke boldly about the need for greater respect for human rights in Iran – and the need to grant Baha'is full rights of citizenship.
"Freedom of conscience, freedom of belief, freedom of religion – and not to believe in any religion – has to be recognized," he said, stressing the importance of passionately defending human rights and the victims of discrimination, whether they are members of your own particular group or not.
"If other people's rights are violated, you have to defend them too. This is the struggle of every single one of us," he said.
Special Reports
The Baha'i World News Service has published a Special Report which includes articles and background information about the seven Iranian Baha'i leaders – their lives, their imprisonment, trial and sentencing – and the allegations made against them. It also offers further resources about the persecution of Iran's Baha'i community.
Another Special Report includes articles and background information about Iran's campaign to deny higher education to Baha'is. It contains a summary of the situation, feature articles, case studies and testimonials from students, resources and links.
The International Reaction page of the Baha'i World News service is regularly updated with responses from governments, nongovernmental organizations, and prominent individuals, to actions taken against the Baha'is of Iran.
The Media Reports page presents a digest of media coverage from around the world.
—
Source: http://news.bahai.org/story/837