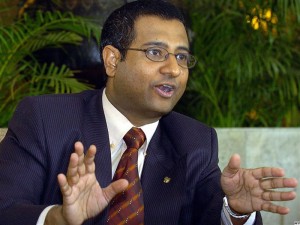 [RAHANA 24 Oct. 2011] After presenting his first report for the UN regarding human rights issues in Iran, the Special Rapporteur Ahmed Shaheed requested that he be allowed to visit the country.
In his talk at the United Nations, the Special Rapporteur Ahmed Shaheed voiced his concern over human rights violations in Iran citing widespread use of secret and public executions, and pressures on religious and ethnic minorities while denying their civil rights.
Ahmed Shaheed pointed to the fact that before publishing his report he shared his findings with Iranian authorities but they refused to respond or collaborate with him. He asked that now the Islamic Republic cooperate with him and give him permission to travel to Iran in order to conduct further investigations.
He called on the Islamic Republic to consider releasing all individuals listed in his report as being political prisoners deprived of their human rights. Among the many he named are political leaders Mehdi Karoubi, and Mir-Hossein Mousavi. Among others mentioned are Ayatollah Boroujerdi, human rights lawyer Nasrin Sotoudeh, student and women's rights activist Bahareh Hedayat, Abdollah Momeni, and Pastor Yousef Nadarkhani. He added that many political prisoners are deprived of suitable medical attention.
Ahmed Shaheed discussed the abuse of ethnic and religious minorities, and mistreatment of human rights and women's rights defenders. He expressed deep worry regarding the reported use of capital punishment for juveniles and scores of executions that were conducted for alleged crimes associated with illegal substances.
The Special Rapporteur also cited the intense pressure and arrest of journalists and human rights lawyers as an area of great concern.
Among those in attendance at the United Nations session that took place in the New York UN headquarters were representatives from the Unites States, Germany, United Kingdom, Norway and Maldives who thanked the Special Rapporteur and asked that the government of Iran cooperate and allow UN representatives entry into the country.
The representative from the Islamic Republic evaded responding to any of the findings, spoke of human rights violations of the US and western countries, and labeled Ahmed Shaheed's report as being "politically motivated."
Iran's head of the judiciary, Sadegh Larijani rejected the UN report on Wednesday, calling it "cheap, inaccurate and without proof." He also asked the prosecutor general and Iran's Parliamentary Human Rights Committee to open a special case on US crimes against Iran.
—
Source: http://www.rahana.org/en/?p=12125
Article in Persian: http://www.rahana.org/archives/45393