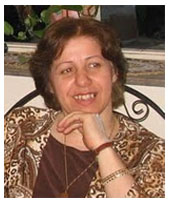 [hra-news.org] Iranian Baha'i, Shahnaz Ranjbar Oladi, was summoned by agents of the Ministry of Intelligence and detained by a court warrant.
According to HRANA reporters (The Human Rights Activists News Agency), A Baha'i citizen, residing in Qa'em-Shahr (a city in north of Iran) by the name of Shahnaz Ranjbar Oladi was summoned to the intelligence office end of September.
Shahnaz Ranjbar was interrogated on Sep 29th and was ordered to come back the next day to continue the session. On September 30th, she went to the same Intelligence office where she was interrogated again. Afterwards, the Intelligence agents called her husband and informed him of the arrest of his wife. They said that she was not cooperating with the office and is detained by the judge order.
Last month, agents from the Ministry of Intelligence had searched Shahnaz Ranjbar's home and left the house after destroying picture's with religious content; and confiscating her computer and religious books.
—
Source (Persian): http://www.hra-news.org/1389-01-27-05-24-07/13722-1.html