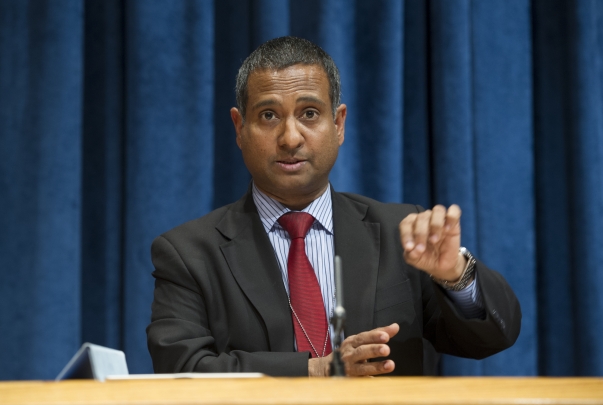 [BWNS, 31 Oct 2012]
UNITED NATIONS — The United Nations expert on human rights in Iran has told the General Assembly that he is "deeply troubled" by the situation in the country, describing a "climate of fear" where journalists, human rights defenders and minorities face wrongful arrest and imprisonment with little hope of legal due process.
Ahmed Shaheed reiterated his call for the immediate release of all "prisoners of conscience" in Iran, highlighting the current incarceration of more than 40 journalists and some 30 human rights defenders.
In his report, Dr. Shaheed also expressed alarm at the general lack of due process rights in Iran. Of some 99 former prisoners he interviewed, "approximately 60 percent reported the use of prolonged solitary confinement, 80 percent stated they were beaten, and over 60 percent alleged they were denied access to a lawyer."
In interactive discussions held on 24 October, several national delegations specifically raised the situation of Baha'is, expressing concern over Iran's persecution of religious minorities. Dr. Shaheed responded by saying that Baha'is particularly face persecution because they are not recognized by the Iranian government as a religion, which leads to discrimination in such things as education.
At a seminar held two days earlier at the International Peace Institute in New York, Dr. Shaheed described Baha'is as "the most persecuted religious minority in Iran," noting that they face a whole range of discrimination – from being unable to practice their faith to being denied access to basic services.
UK parliament debate
In London, also on Wednesday 24 October, United Kingdom members of Parliament from across the political spectrum held a debate at Westminster Hall, focusing on the Iranian government's systematic persecution of Baha'is and other religious minorities.
Alistair Burt, Parliamentary Under-Secretary of State at the Foreign Office, said that "any state can treat its religious minorities in this way is shocking and all the more so given the religious underpinning of the current regime and its oft-stated claim to respect human rights."
Mr. Burt said the United Kingdom will continue to support Dr. Shaheed "in his crucial role of investigating human rights violations and seeking genuine engagement from Iran to address international concerns."
Naomi Long, MP for Belfast East, said the persecution of Baha'is reflects the "wider persecution of other religious and cultural minorities in Iranian society."
"The situation is clearly grave," she said, "and the treatment of the Baha'i community is an indicator of the lengths to which the Iranian authorities are willing to go in the persecution of religious and cultural minorities.
In his concluding remarks, Mr. Burt called upon the Iranian government to embrace values such as mutual respect and tolerance. "Iran has a shameful record of detentions of human rights defenders, journalists and bloggers, and seems callously ready to use tools such as the death penalty in order to intimidate," he said. "The quiet determination of the Baha'is to co-exist peacefully with fellow Iranians as part of a diverse and tolerant Iranian society should be embraced by Iran's government."
—
Source: http://news.bahai.org/story/928