[roozonline]
Monday, March 7th 2014- Farvardin 18th 1393
Denial of the existence of the Prisoners and the Student Banned from Higher Education
Baha'is in Iran are not discriminated against!
By Niusha Saremi
The head of the Human Rights Council  of Iran's Judiciary System claims that Baha'is in Iran are not subjected to any discrimination or human rights abuses, and that reports regarding the violation of the rights of religious minorities are  "clear lies". Mohammad Javad Larijani emphasizes that in Iran no one has been persecuted or denied education for being a Baha'i. He makes these claims even as a long, detailed list of Baha'i prisoners and students who have been deprived of higher education circulates among various media outlets. Even the Bahá'í Institute for Higher Education (BIHE) — an unofficial institution formed by Baha'is  which provides the only chance for an entire minority community in Iran to receive education — has been dealt with harshly, and its instructors and students have been imprisoned.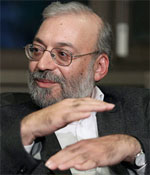 Denial of the Ban on Access to Higher Education for Baha'is
As the Islamic fundamentalists and government hard-liners harshly react to the strategic resolution of the European Community that has emphatically asked Iran to observe human rights¹, Mohammad Javad Larijani, head of the Human Rights Council of Iran's Judiciary System, also denies any human rights violations in Iran.
In an interview with the Iranian Labor News Agency (ILNA), Larijani denies any expulsion of Baha'i students from universities based on their beliefs, and says: "all the human right reports claiming lack of  observation of the rights of minorities in Iran are pure lies, and such statements are racist, sectarian and against all human rights standards."
" Baha'ism is not a recognized religion in Iran; however, the authorities never target Baha'is merely for being followers of this faith, since according to the Constitution all Iranian citizens are entitled to certain rights, and cannot be deprived of rights stipulated by the constitution," says Larijani.
When asked if the dismissal of the students who claim to be Bahá'í can be appealed in accordance with his statement,  Mr. Larijani claimed that "all the reports of violations of human rights will be followed and investigated, and if proved wrong, corrective actions will be taken." He has made similar claims many times in the past.
Reports and Documentation of Discrimination against Baha'is
In a June 2013 report to Ahmad Shaheed  (the United Nations Special Rapporteur on the Situation of Human Rights in the Republic of Iran²),  the Human Rights Commission of the Iranian student organization Council for Strengthening Unity (Daftar Tahkim Vahdat) in conjunction with the Daneshjoo news site and the student organization Committee to Defend the Right to Education (CDRE) addressed denial of higher education in Iran. A portion of this detailed and well documented report was dedicated to the denial of education of religious minorities³.
According to the Baha'i World Community, until 2006 applicants were required to identify their affiliation with one of the officially recognized religions (Islam, Judaism, Christianity and Zoroastrianism) on their application forms. As a result, no Baha'i student was given the opportunity to pursue higher education in Iran. After this requirement was removed from the application forms in 2006, more than 800 Baha'is participated in the university entrance exams; 480 of them passed the first stage of the exams and 289 were consequently accepted into universities. Since then, more than half of the students have been expelled after being identified as Baha'is.
Moreover, in 2007, 800 out of 1000 Baha'is who took part in the entrance exam were notified that their exams would not be graded due to "incomplete files". In that year, 121 Baha'is were eventually admitted into university, of whom more than 50 were expelled.
The report of the Council for Strengthening Unity (Daftar Tahkim Vahdat) provides detailed information and an account of the expulsion of 40 of the above-mentioned students.
In March of 2009 Hessam Misaghi⁴, the spokesperson for the Right to Education Committee, mentioned to the International Campaign for Human Rights that the expulsion of Baha'i students is carried out by the Ministry of Information and the Ministry of Higher Education: "Generally, the expulsions occur after an edict is sent by the Office of Protection of the Ministry of Higher Education. Having the census of all Baha'i families, the Ministry of Information identifies the Baha'i students and they are expelled."
He further explained that: "Baha'is do not believe in denying their religion, and if asked, they express belief in the Baha'i faith." In 2008, Hessam who majored in English Translation at Sanaii University in Isfahan, was expelled after studying at that university for two semesters. This was accomplished through an order from the Ministry of Higher Education , though none of his classmates had been aware that he was a Baha'i.
He mentioned that "In the past few years, written and verbal complaints have been made to the Ministry of Higher Education, the National Office of University Assessment and the Supreme Council for Cultural Revolution, but the officials have provided no explanation and have claimed no responsibility for these actions."
On the other hand the website of the Baha'i World Community claims that "Even though the government of Iran has been pretending to have opened university doors to the Baha'is in the past few years, in reality almost all Baha'i students have been deprived of higher education, and the few who have succeeded in enrolling have been expelled as soon as they were identified as Baha'is. This harassment and persecution has also been extended to school-aged children, who are vilified and subjected to verbal harrassment by their teachers and the clergy, and are repeatedly pressured to convert to Islam."
Rooz Online together with other news media reflects many reports on the persecution and arrests of Baha'is. For example, reference is made to reports made about the condition of the imprisoned leaders of the Iranian Baha'i Community and their deprivation of even short furloughs from prison for over five years, as well as the harassment and abuse of other Baha'i prisoners. In addition, in March of last year Rooz Online reported on the condition of 16 Baha'i women prisoners based on interviews with their families.
1. See http://www.iranhumanrights.org/2014/04/eup-resolution/
2. See http://shaheedoniran.org/. The full report for March 2014 can be seen at http://www.iranhrdc.org/english/human-rights-documents/united-nations-reports/un-reports/1000000443-special-rapporteurs-march-2014-report-on-the-situation-of-human-rights-in-the-islamic-republic-of-iran.html#.U0nV-qJrFuM
3. For the full report, go to http://www.right-to-education.org/node/79. This report is a fundamental document for a detailed understanding of the denial of education to Iranian students, including a list of individual students who have been denied education.
4. See for example an interview with Mr. Misaghi here: http://persian2english.com/?p=8177
—
Translation by Iran Press Watch
Source: http://www.roozonline.com/persian/news/newsitem/archive/2014/april/07/article/-2f9aee6983.html