[roozonline]
Sunday, April 13 2014
A Conversation in Prison, The Story of their Trials and Tribulations
Massoud Bastani, Rajai Shahr Prison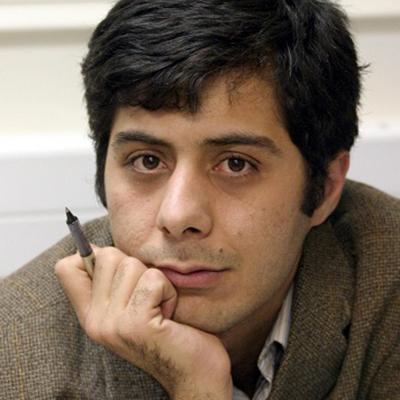 Little Artin has no role in this story, but he is the pivotal point of this whole report. He is a young child born in a Baha'i family whose parents and only uncle are currently in prison because they are followers of the Baha'i Faith and are working with the Baha'i virtual university. He is too young to decide what religion he wants to follow, but as a result of fanaticism and prejudice  hehas now been deprived of a father who is a psychologist, one who was the first in his country to introduce the "Language of Life, Language of Non-Violence" and tried to teach it to his compatriots. His mother, Faran Hessami (1), is also a psychologist, and probably contemplates the mental and emotional education of children more than other mothers. She has focused most of her efforts on teaching non-violence to children.
Artin cannot properly pronounce the words Rajai Shahr or Evin yet, but once a week he travels to Evin Prison to visit his mother, and once every two weeks to Rajai Shahr to visit his father and uncle.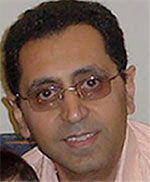 Currently, three members of this Baha'i family are in prison. Kamran Rahimian (2) was arrested in 2011, and after being sentenced to four years in prison was moved to Rajai Shahr. His wife, Faran Hessami, was also arrested in 2011, and after being released temporarily in 2012, was transferred to Evin Prison to serve a four year term. While Artin's parents were in prison, he lived with his grandmother and uncle (Keyvan Rahimian (3)) but this situation did not last either. After the painful passing of Keyvan's wife, he was also sentenced to a five year term and moved to Rajai Shahr.  Now the only caretaker for Artin and Jina, the grandchildren in this family, is their grandmother.
Kamran and Keyvan are also the two children of a family of four whose father was executed at Evin Prison in the spring of 1984 (4) because of his belief in the Baha'i Faith. Kamran says: "I was only a young teenager when my father was executed, and now my son has to spend his childhood all alone because his parents are in prison".
Kamran returned to Iran in the winter of 2003, immediately after earning a Masters degree in psychology from the University of Ottawa in Canada. Now he teaches methods of non-violent resolution to the political and ideological prisoners in Rajai Shahr's Training Workshop. When I ask him why he returned to Iran and was working actively despite being aware of possible dangers, he eagerly responds: "Emotional attachments and the necessity for education and awareness, together with our increased need for societal discourse were more important than anything for me. We are an outcast minority, and we are in serious need of communicating with one another through more conversations. This means I have tried to teach those around me that the proper method of resolving issues is consultation, not violence. Now as a nation we need to learn consultation at all levels of society".
He says that from the first day when he returned to Iran he actively taught non-violence resolution, and he mentions that his professor, Marshall Rosenberg (5), who was the architect and innovator of this method, was very happy about his return to Iran and his introduction of this system into that country.
Kamran has interpreted the language of non-violence as the "Language of Life", and during his years of teaching in Iran, translated and published Professor Rosenberg's book on this topic. Kamran Rahimian is probably the first teacher who has taught the pattern of non-violent language to his compatriots. He shares with me his experience in holding training workshops and the introduction of practical exercises to teach this system. He says: "In one of the workshops, I played the role of Mahmoud Ahmadinejad [former Iranian President], and asked the participants to have a conversation with me using this pattern."
He has held several workshops for the families of those killed in the Iran-Iraq war, the families of some political prisoners, and for victims of the 1980s prison mass executions, who were full of rage and hatred. He says: "I suspect the use of non-violent discourse and consultation in resolving issues is both possible and beneficial at all levels, from marital relationships to social relations between citizens, and even in political relations between the public and the rulers of society."
Currently these two brothers, alongside nine other activists, are in prison for teaching at the Baha'i University (6). These prisoners, who had been educating Baha'i children because they were deprived of higher education, are now focusing their efforts more than others in educating their cellmates at Rajai Shahr Prison.
Like other Rajai Shahr prisoners of conscience, Kamran and Kayvon are deprived of some of their rights, the difference being that Kamran's wife is in prison and Kayvon's wife is dead; while Artin and Jina, these two brothers' children, are deprived of being with either of their parents!
I ask Kamran: what is the most difficult part of being in prison? He bitterly responds: "My wife, my brother and I chose our way of life with complete awareness, but my biggest concern is how my decisions and choices will adversely affect my family and others."
He says: "I cannot picture what our future will be like, but I will do my best to undo the damage done to Artin and Jina."
Now, Kamran and Kayvon share one of Rajai Shahr's cells and – perhaps as in their childhood – sleep on bunk beds. When I ask Kamran how he feels about being in prison with his brother, he immediately replies: "Every day I wish for his freedom, but his presence here warms my heart."
Kamran's wife is in the women's wing of Evin, and he has seen her only once since his incarceration. He says: "I wish I could know Faran's inner feelings and ask her whether she is regretful or dissatisfied with this new situation. I wish I could know if she is in peace."
Kamran writes letters to his son and wife every week. His letters are mailed to his home and to Evin prison, respectively, and are usually received with a one month delay. In his letters, he usually draws pictures for Artin, so that he doesn't lose his emotional connection to his son.
Kamran weeps uncontrollably when he speaks of the hardships Artin, Jina and his mother are enduring. He recalls something his niece, Jina, had said after her mom's death and her uncle and aunt's imprisonments. She had told her father that she wanted her mother and uncle and aunt, and wondered why no one understands that they have the right to be together! Jina had said: "God doesn't understand, His Holiness Abdu'l-Baha doesn't understand, none of these Holinesses understand." At the time, her father had thought that little Jina might be right, because if they had not been Baha'is his own father might not have been executed in 1984, Kamran might have been teaching non-violent language on TV instead of in Rajai Shahr prison, and Faran might have been teaching child abuse prevention methods to more people. That night, Keyvan Rahimian had wondered who would be left to listen to Artin and Jina, and to comfort their tearful hearts if he ended up in prison too!
Kamran is busy translating another book by his professor related to the pattern of non-violent language, and is trying hard to find English resources for his work despite prison limitations and prohibitions. He says that in addition to Rogers (7), who introduced the concept of empathy to psychology, [Mahatma] Gandhi and [Nelson] Mandela are important personalities for him, and he has great respect for his mother and for Jahangir Hedayati (8).
He still would like October 2nd – Gandhi's birthday – which is named the International Day of Non-Violence (9) to be officially recognized by his country. Here in prison, even though he is practicing empathic actions based on what he has learned, he is extremely concerned for the wellbeing of long-term prisoners who are depressed. He now provides free therapy sessions for those prisoners who are deeply homesick and hopeless, and they talk to him about their feelings.
Kamran talks about his trial proceedings and how he met his court appointed attorney only 10 minutes prior to his trial. His prison sentence was announced nine days after his first court session! I ask him: "Your father was executed due to religious fanaticism and your son is now growing up without his father. If you could decide on the fate of those who have tormented you and your son so harshly, how would you deal with them"? He thinks a little and replies: "I want them first, to realize why they have treated us like this, and second, to accept responsibility for their actions; that means they should try to understand what has been done to me and my family, and accept responsibility for it."
I ask: "Would you like to punish them"? He says: "I want them to say how they plan to pay retribution for the damages done to us." And I recall again, the day Kamran read his letter for me, the letter he had addressed to Artin and all other Iranians: "Artin and the nation of Iran; tonight, while at my home, I confess that I am a Baha'i, I have studied and taught at the Baha'i Institute of Higher Education, I have taught the pattern of non-violent language to nearly 2000 people, translated related texts and published them with a license from the Ministry of Guidance."
He had further written: "The whiplashes on my father's body caused me to learn the rhythm of drum (tonbak (10)) beats, denial of higher education in Iranian universities caused me to get a Masters degree in Canada, paired with gaining special skills in therapy and non-violence education, and finally, my father's execution and martyrdom caused me to develop relationships with people in therapy sessions and educational workshops in patterns of non-violent language. These are my family's gifts to Iran and to all the Iranians, which I hope they accept."
My conversation with Kamran comes to an end, and now I plan to go and talk to his brother, Keyvan. I hesitate a minute and wish I had the opportunity to talk to all those who torment Kamran, Kayvon, Faran and their children. This is merely the report of one out of many prisoners of conscience in Rajai Shahr prison which can be called a story, a story of trials and tribulations, trials that Artin and Jina endure night and day. And I try very skillfully to hide a picture in this story, the picture of Kamran, who, exhausted and desperate, leaned on the prison wall, and quietly – so that no one would notice – whispered: "I don't have the energy to talk anymore!"
1. For a short biography of Faran Hessami, as well as her husband Kamran Rahimian, see http://news.bahai.org/human-rights/iran/education/profiles
2. Prisoner info for Kamran Rahimian can be found here: http://iranhr.blogspot.com/2012/03/prisoner-info-for-kamran-rahimian.html
3. "Prisoner of the Day" information for Keyvan Rahimian: http://iranian.com/main/2012/oct/keyvan-rahimian-prisoner-day.html. See also a poignant article about the struggles these two brothers have in communicating with their children, at http://www.newsyoushare.com/post.aspx/keyvan-rahimian-a-baha-i-professors-i-m-going-to-jail-because-i-have-helped-to-baha-i-education-1095
4. For a Memorial to Kamran and Keyvan's father Rahim Rahimian, see http://www.iranrights.org/memorial/story/-3129/rahim-rahimian
5. For information on Dr. Rosenberg and The Center for Nonviolent Communication, see https://www.cnvc.org/about/marshall-rosenberg.html
6. Formally the Baha'i Institute for Higher Education, or BIHE. See http://www.bihe.org/
7. The psychologist Carl R. Rogers: http://cultureofempathy.com/References/Experts/Carl-Rogers.htm
8. Mr. Jahangir Hedayati was a Baha'i who was executed after torture in Iran in spring 1984 – at approximately the same time as Kamran and Keyvan Rahimian's father Rahim. His name is among those listed at http://www.iranhrdc.org/english/human-rights-documents/aadel-collection/10510-torture-of-the-baha-is-in-iran-world-order-spring-1984.html#.U1AISKJrFuM
9. A UN-sponsored holiday: http://www.un.org/en/events/nonviolenceday/background.shtml
10. The characteristic Persian-style drum: http://en.wikipedia.org/wiki/Tonbak
—
Translation by Iran Press Watch
Source: http://www.roozonline.com/persian/news/newsitem/archive/2014/april/13/article/-1ba27857fa.html