Iranian Ayatollah defends Baha'i rights and goes head-to-head with the regime

HUMAN RIGHTS
 In defiance of the Iranian government, Ayatollah Masoumi-Tehrani recently gifted an art piece to Baha'is throughout the world, and especially to Iranian Baha'is, who, in Masoumi-Tehrani's words, "have suffered in manifold ways as a result of blind religious prejudice" at the hands of some of his coreligionists.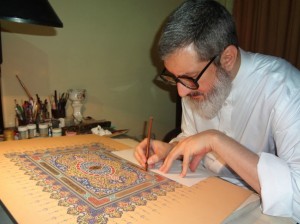 Ayatollah Masoumi-Tehrani states on his website that he wishes the artwork to be viewed "as an enduring symbol of respect for the innate dignity of human beings, for fellow-feeling and peaceful coexistence regardless of religious affiliation, denomination or belief."
In addition to being a prolific calligrapher, Masoumi-Tehrani is an advocate of religious tolerance and gender equality. He is also considered a dissident by many officials in the Iranian government. He learned the skills of calligraphy, painting, and tailoring because he believes that clerics should support themselves financially.
Masoumi-Tehrani has made calligraphic renderings of other religious scriptures as well. He launched a project to produce illuminated calligraphic works of the Torah, Psalms, and the Qur'an in response to former Iranian President Khatami's designation of 2001 as the "Year of Dialogue Among Civilizations."
In a two-page letter accompanying the verse from the Baha'i writings, Masoumi-Tehrani writes, "Although it was my heart's wish to make an illuminated copy of the whole Kitab al-Aqdas, like the holy Qur'an, the Torah, the Psalms, the New Testament, and the Book of Ezra, yet regrettably my physical and financial resources did not allow it."
In fact, government officials had advised Masoumi-Tehrani not to carry out this project. After informing Ayatollah Khamenei of his plan to produce calligraphic works of the religious texts, Masoumi-Tehrani received the following message from Khamenei's office: "The Supreme Leader sends his greetings and advises against this work."
In an interview with Iran Wire, Masoumi-Tehrani states that officers from the Ministry of Culture and Islamic Guidance came to his office to confiscate his copy of the Torah. Apparently, they backed down when he threatened to publicly embarrass President Khatami. However, when the project became public in 2004, Masoumi-Tehrani says that he started receiving threats, which prompted him to remove his contact information from his website. Although the threats did not result in violence, the Ayatollah was concerned for the safety of his elderly mother.
When asked why the Iranian government disliked his project, he said that some "vocal, self-righteous individuals" who had complained "thought that calligraphy and decorative production of Holy Scriptures is tantamount to the promotion of those beliefs, while in our capacity as producers of art we made no judgment as to the truth or falsehood of the work."
ALSO READ Together, but alone in Tehran
In a critical statement about the Iranian government and referring to members of the establishment, he says "in every society there are some who benefit from division and hate mongering and I hope their numbers gradually decrease."
Instead, he advocates the separation of government and religion, and states that  "mixing the two results in the worst type of damage to the teachings of religion." In a further argument against the current regime he says that Iran's morality police "eats away at the moral and ethical foundations of society like a termite."
It should come as no surprise, therefore, that many clerics and officials associated with the Iranian regime consider Ayatollah Masoumi-Tehrani a dissident. To be sure, he has been imprisoned several times for speaking out against the government. However, even if Masoumi-Tehrani is not in the majority, he illustrates the fact that Shi'i clerics are not a monolithic group.
Masoumi-Tehrani is not the first prominent Iranian Shi'i to defend the rights of Baha'is. To name a few, Ayatollah Montazari, Mohsen Kadivar, Mohammad Nourizad, Nasrin Sotoudeh, Dr. Muhammad Maleki, Hassan Yousefi Eshkevari, and Shirin Ebadi, have each risked their careers and safety to publicly defend the rights of Baha'is.
Montazari, the architect-turned-critic of the Iranian revolutionary government, issued a fatwa toward the end of his life calling for the rights of Baha'is as citizens of Iran. Nourizad, the former Kayhanjournalist, famously kissed the feet of a young child whose parents are both Baha'i prisoners of conscience. Sotoudeh, a reformist human rights lawyer, has called for the release of Baha'i prisoners and argued that the murder of a Baha'i in Bandar Abbas is part of a chain of murders of at least 80 Iranian intellectuals and activists.
Dr. Maleki, the former president of the University of Tehran, apologized to a young Baha'i who was denied enrollment for the"cowardly and unjustified denial of access to education." In an interview on BBC Persian, Eshkevari, cleric and political prisoner, argued that the allegations, such as espionage for foreign countries, made against Baha'is have no basis in reality. Nobel laureate Shirin Ebadi, who provided legal counsel to the seven Baha'is now serving the longest prison sentence of any Iranian prisoner of conscience (20 years), said that she found no evidence to convict the Baha'is.
THE MOST POPULAR STORIES ON YOUR MIDDLE EAST
Baha'is have been violently persecuted in Iran since its origins in the nineteenth century. The Iranian Revolution resulted in a significant increase in persecution, especially since the current Iranian constitution does not recognize the rights of Baha'is.
Article 13 clearly states that "Zoroastrians, Jewish, and Christians are the only recognized religious minorities, who, within the limits of the law, are free to perform their rights and ceremonies, and to act according to their own canon in matters of personal affairs and religious education."
Therefore, if Masoumi-Tehrani had a difficult time keeping his copy of the holy book of the recognized Jewish minority from the authorities, one wonders how the government will respond to his positive gesture towards the Baha'is, who are unrecognized.
Since the beginning of Ayatollah Khamenei's reign, the persecution of Baha'is has not relented. A scathing investigative report published by Reuters provides significant evidence of Khamenei's economic exploitation of Baha'is. The report argues that a portion of Khamenei's financial empire, which is reportedly worth $95 billion (roughly 40% more than Iran's annual oil exports), was built by confiscating property from Baha'is.
The appropriation of Baha'i property is managed by Khamenei's Setad organization, which also controls assets in nearly every financial sector, including ostrich farming, birth-control pills, and car dealerships. According to Reuters, "Setad was occupying 73 properties seized from (Baha'is) as of 2003, the most recent data available. The real estate was then worth about $11 million."
Although prisoners of conscious were released from prison in the wake of President Rouhani's election, not one Baha'i was included among them. Further, there have been no indications that the government is interested in investigating the infamous, religiously motivated murder of Ataollah Rezvani in Bandar Abbas last August. Therefore, Rouhani's election has produced no change for the beleaguered Baha'i community of Iran thus far.
Although Baha'is, Muslims (including Imam Ibrahim Mogra, assistant Secretary-General of the Muslim Council of Britain), andChristians alike have celebrated Ayatollah Masoumi-Tehrani's gift, time will tell whether the voices of outspoken advocates of human rights will prevail against the status quo in Iran any time soon.
Although there seems to be a growing groundswell of advocates for Baha'is in Iran, especially since 2009, many of the outspoken supporters are considered dissidents by the government and have been imprisoned, subject to house arrest, or now live outside of Iran for fear of their safety.
* Dr. Zackery M. Heern is a professor of Middle East and Islamic studies at Murray State University. His research and teaching interests include Shi'ism, Iraq, Iran, Islamic Movements, the Baha'i Faith, and Global History. He is currently writing a book on Usuli Shi'ism.
—
Source: http://tinyurl.com/nl3q3nv