Source: www.bic.org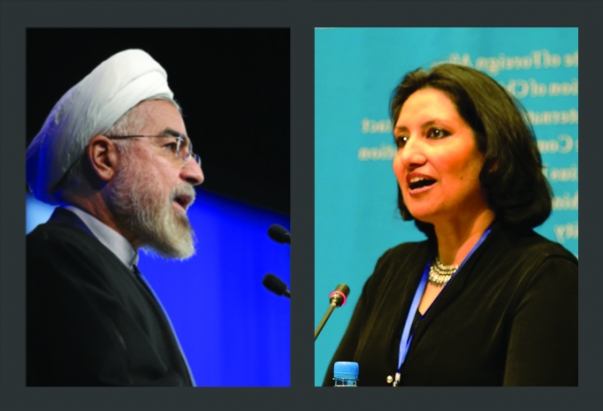 United Nations—22 September 2016—Iranian President Hassan Rouhani's call today for an end to religious sectarianism ignored Iran's own intense persecution of its largest religious minority, thus undermining the very point he was trying to make, said the Baha'i International Community.
"In his address to the UN, President Rouhani said that Iran 'opposes any kind of sectarianism and any attempt to promote religious gaps,'" said Bani Dugal, the principal representative of the Baha'i International Community. "Yet his government's persecution of Iran's Baha'i community continues to worsen."
"The situation of Iranian Baha'is, who have been the targets of systematic discrimination and persecution by their government, offers a litmus test of Iran's genuine engagement in addressing human rights for all of its citizens," said Ms. Dugal.
"Instead of silence on ending the government's unjust and unwarranted persecution of Baha'is – who wish only to contribute to the betterment of their society like any other Iranian citizen – the international community needs to hear specific commitments that are followed by concrete action," she added.
Echoing her comments from a recent letter to President Rouhani, Ms. Dugal drew attention to the "stark contradiction" between the government's stated desire to create "justice for all Iranians equally" and "promoting job creation and reducing unemployment" on the one hand, and the "unrelenting economic oppression imposed upon the Bahá'í community in Iran" on the other.
Ms. Dugal noted:
Baha'is face incidents of economic discrimination every day. They are banned from all public employment, most professions, and many occupations, on the offensive excuse that they are religiously "unclean."  In addition to these, the BIC has received reports of nearly 400 specific incidents of state-sponsored economic repression since President Rouhani came to power in 2013, including shop closures, dismissals and threats to Baha'i business owners.
The government's program to vilify and defame Baha'is has intensified. Since 2013, the BIC has documented more than 20,000 different items of anti-Baha'i propaganda, which are only a fraction of the total.
There are 81 Baha'is in prison, including seven national-level leaders, and thousands of young Baha'is have been blocked from attending university.