Source: www.humanrightsiniran.org
Translation by Iran Press Watch
Date: 26 November 2016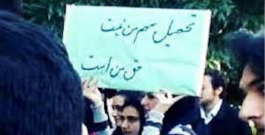 Bardia Rouhu'l-Fada, a 15-yearold Baha'i citizen residing in the city of Rasht, has been expelled from high school, because of his belief in the Baha'i Faith.
Based on a report from the Human Rights in Iran website, reposted from Bahainews, Bardia Rouhu'l-Fada was expelled from Komayl boys high school in his first year of study. Two other high schools in that city also refused to register him.
A source close to the family of this citizen has stated that: "Bardia's father was asked by the principal of the high school to fill out the registration form again. When he came to the religion section of the form, the principal asked him not to mention that he is a Baha'i, even though Bardia's father had previously mentioned that his son is a Baha'i. The principal told him that this high school is one of the exemplary public schools, and so he had to expel his son."
According to this report, as conveyed by an informed source, "The father of this expelled Baha'i citizen went from the high school to the Education Department. However, Education Department officials refused to give him a document that would state that being a Baha'i was the reason for his son's expulsion."
Bardia Rouhu'l-Fada was expelled from high school under conditions such that three other schools refused to accept him at their educational institutions. This Baha'i citizen is currently being home-schooled.
Based on this source close to Bahainews, "Sanayeh Poushesh High School told his father that they did not have room for his son; Mulla Sadra and Shahid Raja'i High Schools recommended that his father not state that he is a Baha'i. Contesting this, Bardia's father said, "You mean I have to lie?' And they replied, "Yes, you have to lie. Otherwise, your son cannot continue his education."
After Bardia Rouhu'l-Fada was expelled from high school, his classmates were upset about his expulsion, and they gave him a standing ovation as he was leaving the high school.
Within the past month, more than two-thousand Baha'i citizens have written to Hasan Rohani, and have asked for the improvement of educational conditions for the Baha'is in Iran, news of which Bahainews has previously published. From the Islamic Revolution in Iran to date, more than one hundred thousand Baha'i citizens have been prevented from continuing their education.
Not only are Baha'is in Iran denied higher education, but also in recent years, a number of Baha'i citizens or those born into Baha'i families have been denied education in elementary, middle school and high school.
The denial of education for Baha'is has been carried out on the basis of citing the Resolution of the Supreme Council of Cultural Revolution dated 25 February, 1991. Based on this Resolution, Baha'i have been deprived of higher education as well as employment at government entities.
Based on Article Three of this Resolution, not only should Baha'is be prevented from registering at universities, but also they should be denied education if they are identified as Baha'i after registration and "through the course of studies".
Denial of education for Baha'is was systematically implemented after the Islamic Revolution and the announcement of the Cultural Revolution.