Source: www.amnesty.org
The Iranian authorities are intensifying their crackdown against human rights defenders, who have already been working under suffocating levels of repression. Human rights defenders are routinely portrayed in official statements and court verdicts as "criminals" and "foreign agents" bent on harming national security. Since 2013, dozens of human rights defenders have been imprisoned on spurious national security-related charges based solely on their peaceful human rights activities. Many others have faced surveillance, interrogations and drawn-out prosecutions, coercing them into silence. Amnesty International urges the Iranian authorities to release all imprisoned human rights defenders immediately and unconditionally, and to create a safe and enabling environment in which defenders can defend and promote human rights without fear of reprisals.
Download the full report here.
9.1 ACCESS TO HIGHER EDUCATION FOR BAHA'IS
The Baha'i minority, which numbers between 300,000 and 350,000 people, face systematic persecution in law and practice.The authorities regularly incite hatred and violence against them, describing them as "heretical", "deviant", "filthy" and "counter-Revolutionary".
Baha'is have been denied access to higher education since shortly after the 1979 Revolution. In response, some Baha'is set up the Baha'i Institute for Higher Education in 1987. After repeated acts of harassment and intimidation by the authorities for providing alternative higher education, the authorities detained leaders of the Institute in May 2011. Tens of people associated with it, including teachers, were sentenced to long terms of imprisonment.
The authorities have also resorted to arbitrary detention and the misuse of the criminal justice system to silence Baha'i students claiming their right to higher education as well as human rights defenders who have denounced the authorities for discriminating against Baha'i students. Despite the threats and attacks directed against them, Baha'i students are increasingly speaking out when higher education institutions expel them or refuse to register them even though they have passed the admission exams.
ROUHIE SAFAJOO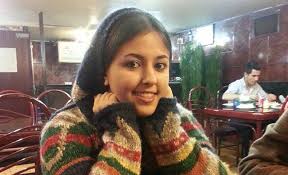 "Be silent, they say.
"Speak not, be silent.
"And yet I cannot. I have no desire to.
"I shall perish if I do not speak. I have always had a pen since I can remember. The pen is part and parcel of my existence. I cannot be silent."
Rouhie Safajoo's poem on her Facebook about a five-year-old Baha'i boy whose parents were imprisoned for teaching at the Baha'i Institute for Higher Education, March 2016 Baha'i student Rouhie Safajoo, aged 20, was arrested on 8 March 2016 at her home in Karaj, north-west of Tehran, by eight Revolutionary Guard officials who introduced themselves as employees of the state gas company before entering the house. The officials told her that she was being arrested "in relation to her Facebook activities". They searched the house and asked her to provide the password to her personal accounts, including her email.
In the months leading up to her arrest, Rouhie Safajoo had written several posts on her Facebook account about the violation of her right to higher education and the discrimination she suffered as a Baha'i. Despite passing Iran's university entrance exam in 2014 and 2015, she had not been allowed to enrol. She had filed a complaint with several state authorities and had written, along with other Baha'i students, an open letter to President Rouhani expressing dismay that his administration had not kept its promise to respect the rights of Baha'is to higher education and non-discrimination.
Following her arrest, Rouhie Safajoo was taken to Section 2A of Evin prison, where she was held in solitary confinement for eight days. She had no access to a lawyer during this period even though she was interrogated every day for four hours. She was not permitted to call her family until five days after her arrest.
During interrogations, she was blindfolded and forced to sit facing a wall. Her interrogators questioned her about her Facebook posts, repeatedly insulting her religious beliefs and calling her "mental", "brazen" and "stubborn". Rouhie Safajoo was released on 27 March 2016 after posting bail. She was subsequently summoned to the Office of the Prosecutor where she was charged with "dissemination of lies" under Article 18 of the Cyber Crimes Law. As of 12 July 2017, she was at liberty awaiting her trial date.
NAVID KHANJANI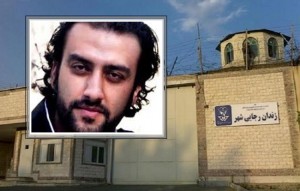 Navid Khanjani, a founding member of the Committee of Human Rights Reporters, the Committee for Pursuit of the Right to Education for Baha'i Students, and the Association to Oppose Discrimination in Education,95 has been imprisoned in Raja'i Shahr prison since August 2012. He is sentenced to 12 years and five months' imprisonment for his peaceful human rights activities.
He was first arrested in Esfahan on 2 March 2010 and transferred to Evin prison, where he spent 65 days in detention, 25 of which were in solitary confinement. He was not allowed access to a lawyer while in detention.
During this period, he said he was tortured while interrogated, including by beatings and periods of strangulation while blindfolded.
Navid Khanjani was sentenced to 12 years' imprisonment in January 2011 after an unfair trial before Branch 26 of the Revolutionary Court in Tehran, which convicted him of "forming a group with the purpose of disrupting national security", referring to the Association to Oppose Discrimination in Education, "creating unease in the public mind" and "spreading propaganda against the system".
His sentence was confirmed on appeal in August 2011.