Source: www.hra-news.org
Translation by Iran Press Watch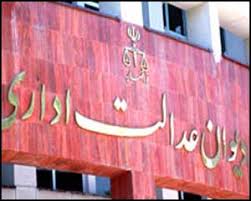 HRANA News Agency – The appellate branch of the Court of Administrative Justice has upheld the court's ruling regarding the banning of Baha'is from university education. Baha'i citizen Hannan Horr, after participating in and passing the 2016 university entrance exam, and despite being admitted to Babol Noshirvani University, was banned from continuing his studies because he is a Baha'i. This Baha'i youth filed an appeal to the Court of Administrative Justice regarding the violation of his human and civil rights. The Court of Administrative Justice, after completing the investigation process last spring, denied his appeal; since according to this judicial institution, "Baha'is are banned from government employment as well as university education in Iran."
According to HRANA (the news agency of Human Rights Activists of Iran), Baha'i citizen Hannan Horr, holding rank 3,000 in math and admitted to the field of Mechanics at Babol Noshirvani University effective October 3, 2016, was prevented from entering the university and subsequently banned from continuing his studies.
In 2017, this Baha'i filed a petition with the Court of Administrative Justice, appealing to the judicial system to be granted his civil rights.
In May 2018, the ruling of the Court of Administrative Justice, issued by branch 40 of the court, was communicated to Hannan Horr. Horr, again appealed the ruling, and eventually on June 13, 2018 his appeal to the court ruling was denied and the original ruling was upheld by branch 26 of the Appellate Court.
According to the judgement issued by the Court, the defense presented by the Ministry of Science, Research and Technology was "based on the regulations approved by the Supreme Cultural Revolution Council (SCRC), which bans Baha'is from government employment as well as university education."
This ruling is a rare instance in which the Iranian judicial system admits the existence of confidential regulations approved by the Supreme Council of the Cultural Revolution, which ban Baha'is from higher education and government employment.
Before Hannan, his brother Faran Horr as well as their father Elham Horr were also banned from university education due to their religious beliefs by similar rulings, in 2012 and 1983 respectively.
Every year many reports are published about the deprivation of Baha'i citizens from education in Iran's universities. Even those Baha'i students who are on the verge of graduation find themselves suddenly banned from continuing their studies.
Despite the clear letter of the law, based on the regulations approved by the Supreme Council of the Cultural Revolution Baha'is are banned from government employment as well as university education.
Throughout the existence of the Iranian regime, United Nations rapporteurs for human rights in Iran have repeatedly denounced the persecution of the Baha'i Community, in particular the denial of the right to education for Baha'i students, considering it a blatant example of the Iranian government's disregard for human rights treaties.
Baha'is in Iran are denied freedom of religion, a systematic exclusion, in contravention of article 18 of the Universal Declaration of Human Rights and Article 18 of the International Covenant on Civil and Political Rights, to both of which Iran is a signatory, which state that everyone has a right to freedom of religion and to the conversion of religion based on personal belief, as well as the freedom to express it individually or collectively, in public or in private.
According to unofficial sources in Iran, there are more than three hundred thousand Baha'is; however, the Iranian constitution recognizes only Islam, Christianity, Judaism and Zoroastrianism, and does not recognize the Baha'i Faith. For this reason, Baha'i rights in Iran have been systematically violated over a number of years.