[Alliance for Rights of All Minorities-ARAM]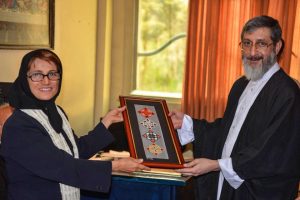 Nasrin Sotoudeh, attorney and human rights defender, met with Ayatollah Masumi Tehrani in the aftermath of his gift of the ornamentation of the Baha'i symbol of the "Greatest Name" and the calligraphy of Baha'i sacred scripture. This gift was made to the Iranian Baha'is.
In this meeting that took place last week, Sotoudeh thanked and praised Ayatollah Masumi Tehrani and gave him a gift of a portrait she had produced during her own time in prison.
In addition to Nasrin Sotoudeh, a number of university professors and Baha'i activists attended this meeting. Supporting Ayatollah Tehrani's humanitarian act, Sotoudeh expressed her hope that similar acts continue in the future. She also expressed her concern over ethnic, religious and gender-based discrimination imposed by hardliners in the name of Islam. She added that the peaceful coexistence of citizens who hold different views is necessary for the society's growth and progress.
At the end of this meeting Ayatollah Tehrani presented one of his calligraphic works to Sotoudeh as a gift.
Ayatollah Abdulhamind Masumi Tehrani's previous works of calligraphy include holy scriptures such as the Qur'an, the New Testament, the Psalms and the Book of Ezra. Acknowledging the injustices that Iranian Baha'is face, he recently presented a calligraphy of a Baha'i holy scripture as a gift to the Baha'is all over the world and particularly to the Baha'is of Iran. This work of calligraphy, which will be kept at the Baha'i World Center, is the first-ever gift from a Shi'a cleric to the Baha'i community.
—