Source: bahaicamp.com
Translation by Iran Press Watch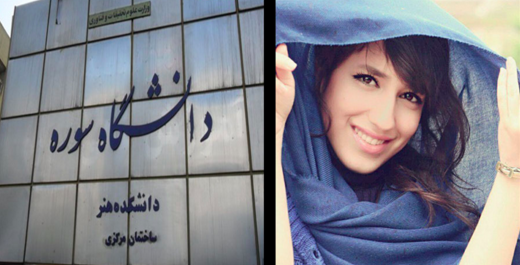 Maedeh Khalili has been expelled from university because she is a Baha'i
As reported by the "No to the Harassment of Baha'is" Campaign, Maedeh Khalili-Amiri, a Baha'i student in Tehran, has been expelled from Sooreh Tehran University and has been deprived of a higher education because she is a Baha'i, just four months after school registration.
In an interview with our campaign, this Baha'i student said the following regarding her expulsion:  "They invited me to the central university offices under the guise of religious studies class; however, since I suspected foul play I did not go.  They called again, and this time they said: 'You have been summoned by educational affairs officials.'
"In a meeting held with these educational affairs officials, they told me that I was accused of disseminating propaganda, and need to bring an approval from the Evaluations Office in order to be able to continue with my studies.
"At my follow-up meeting with the Evaluations Office, I was told: 'You have been expelled as of the very beginning of the school year'… I asked them why they had summoned me there at that time, and they replied: 'You came of your own accord ‒ we didn't ask you to come.'
"After many follow-ups and a lot of back and forth on the same day with various offices at the same Evaluations Office, and after adamantly requesting to give any kind of written proof in this regard before I left their office, they told me: 'You are incapable of comprehending that your educational rights only extend through high school and no more' ‒ then they slammed the door in my face and left…
"I told the deputy that according to Iranian Constitutional Law, everyone has a right to an education… They replied that they have an amendment that nullifies that law… I asked how it could be possible to nullify a law in the Constitution with another law?  They said: 'You live in an Islamic Country, so anything is possible.'"
The Islamic Republic of Iran does not consider the Baha'i Faith to be a religion, nor does it recognize any rights whatsoever for its followers.
Baha'is in Iran face expansive deprivations, including being barred from university education, as well as being banned from holding many jobs and professions.
These deprivations exist regardless of the fact that the first paragraph of Article 26 of the Universal Declaration of Human Rights, which has been ratified by the Government of the Islamic Republic, clearly states that "access to higher education for all people should be equally provided to all individuals on the basis of merit."  In addition, in the first paragraph of the UNESCO Convention against Discrimination in Education, which has also been ratified by the Government of Iran, any deprivation and restrictions based on language, religion, political ideology, etc, is rejected.