Source: BahaiNews1
Translation by Iran Press Watch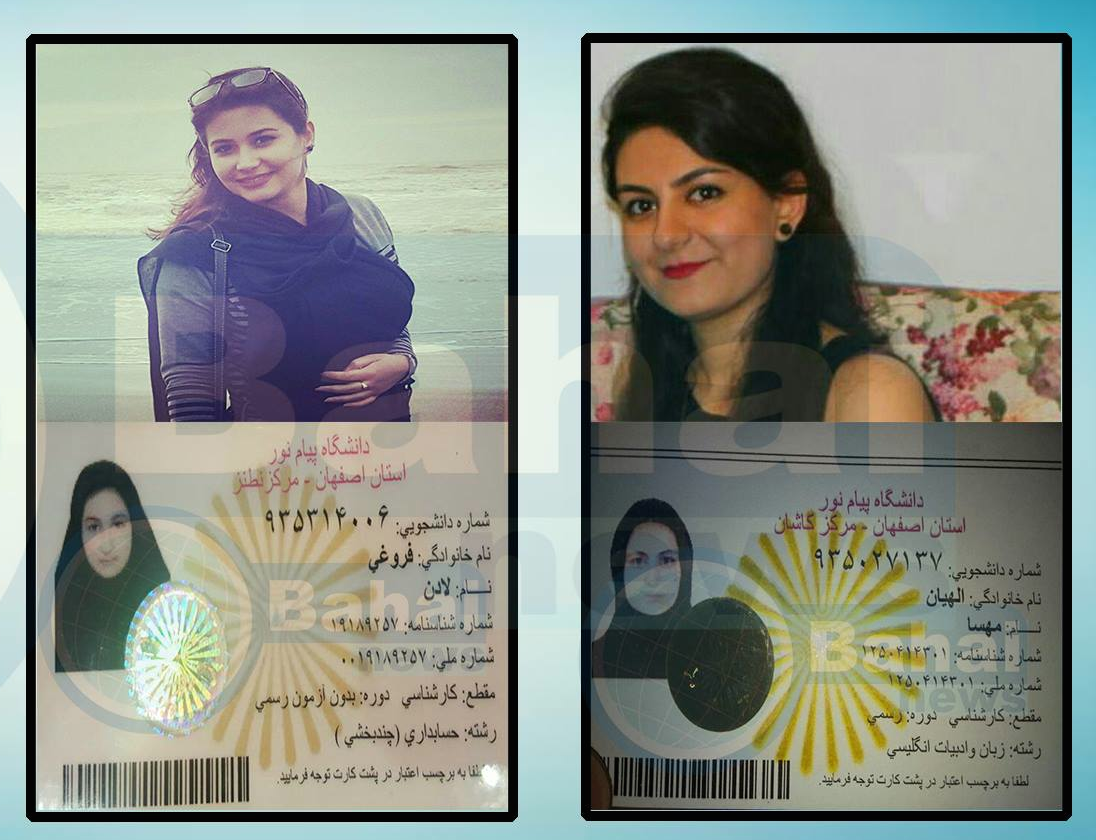 According to a report from "BahaiNews", the oppression of Baha'is in Kashan ‒ a city in Central Iran ‒ has intensified, as two Baha'i students there have been deprived of higher education, and two Baha'i businesses shut down and sealed.
The report states that Mahsa Elahian, in her third semester at the College of Linguistics and English Literature at Payam Noor University in Kashan, and Ladan Foroughi, majoring in accounting at Payam Noor University in Natanz ‒ a city close to Kashan ‒ have both been expelled.
According to an informed source, the administration of the University asked Mahsa Elahian why she marked "other" in the column for religion when she filled in her application. "My religion is not among the ones listed on the form," she replied. As a result, she was expelled from the University. Also, according to the same source: "On April 25, 2016, Ladan Foroughi was expelled from her university for answering the same question."
Depriving Baha'is of higher education in universities and colleges results from the February 25, 1991 directive by the Supreme Council for Cultural Revolution 2 which prohibits government offices from hiring Baha'is, and excludes Baha'i students from admittance to universities and colleges.
According to the 3rd article of this directive, not only are Baha'is not to be admitted, but if they are, they should be expelled as soon as they are identified.
Also, "BahaiNews" has received other reports regarding the closure of two Baha'i businesses in Kashan. These shops were sealed because authorities refused to provide a business license, because the owners were Baha'is.
On May 7, 2016, the optometry shop belonging to Mr. Bahman Elahian received a warning, and was sealed three days later. Moreover, on May 17, 2016, another optometrist's shop owned by Mr. Arash Zabihian was sealed 10 days after receiving a warning.
In past years, many Baha'i businesses have been sealed by order of the Office of Public Places in different cities around the country.
"BahaiNews" previously has indicated that the reason behind these closures was so that the Security Forces could confront Baha'is for closing their businesses in celebration of the nine yearly official Baha'i holidays. In the past few years, many have been businesses sealed and the owners sent to jail right after a Baha'i holiday. According to the Iranian National Business Law, every legitimate business may close up to 15 days per year without permission, but they must seek permission from the Office of Public Places if closures exceed 15 days.
____
1. "BahaiNews" is an independent non-Bahá'í initiative and is not affiliated with any Baha'i institutions.
2. For the full text of this document, see http://news.bahai.org/human-rights/iran/education/feature-articles/secret-blueprint