Source: BahaiNews1
Translation by Iran Press Watch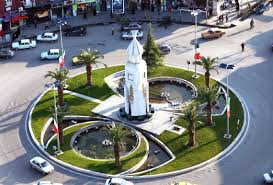 According to a report from "BahaiNews", more than thirteen businesses have been sealed off for the second time in Qaem Shahr, in Northern Iran.
Based on previous reports from "BahaiNews", government agents of the Office of Public Places had sealed off the Baha'i businesses on April 20 2016, and unsealed them two weeks later, on May 4 2016. Now, agents have again sealed those businesses.
The list of the names of the Qaem Shahr Baha'is whose businesses were shut down once on April 20 2016, and reopened 15 days later only to be re-sealed once more on May 23 2016 are as follows:
Sohrab Laghaie, Changiz Derakhshanian, Bijan Noekhah, Nima Meeri, Soheil Hagh Doost, Bahauddin Samimi, Behnam Mirzaie, Koroush Ahmad Zadegam, Adel Ataeyan, Fariborz Sanaie, Rezvan Golpour, Shahin Akbari, Farzad Sabeti, Jalal Ataeyan, and Ms Zahra Golabiyan.
In past years, many Baha'i businesses have been sealed by the order of the Office of Public Places in different cities around the country.
"BahaiNews" previously has indicated that the reason behind these closures was so that the Security Forces could punish Baha'is for closing their businesses in celebration of the nine yearly official Baha'i holidays. In the past few years, many businesses have been sealed and the owners arrested right after a Baha'i holiday. According to Iranian National Business Law, every legitimate business is allowed to close for up to 15 days per year without permission, but they must seek permission from the Office of Public Places if closures exceed 15 days.
_____
1. "BahaiNews" is an independent non-Bahá'í initiative and is not affiliated with any Baha'i institutions.