Source: BahaiNews1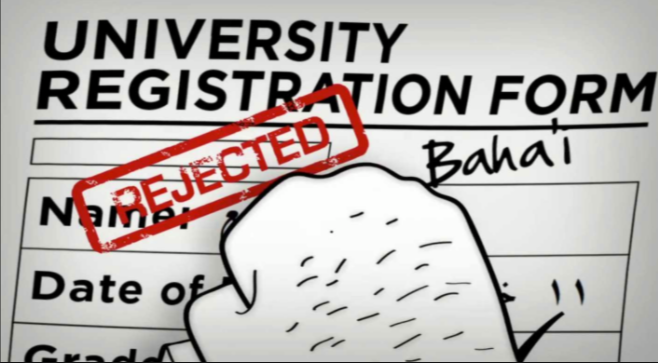 Translation by Iran Press Watch
Based on reports by "BahaiNews", the surge of denials of education for Baha'is this year has been as substantial as in previous years, after the announcement of university entrance exam results and the beginning of the new school year.
Based on additional information published on the Baha'i News website, nine more Baha'i citizens have been deprived of higher education because of their belief in the Baha'i Faith. They are: Misagh Laghai from the town of Qorveh in Kurdistan with a rank of 1805 (out of approx 900,000 applicants) majoring in language, Mazyar Astani, Vahid Sadeghi, Ilia Javidnia from Tehran, Zohreh Fazli of Karaj, Dorna Rouhipour with a ranking of 4948 and permitted to select a major, Farnaz Notghi of Hamadan with a ranking of 3000 and permitted to select a major, Mounes Ghalili-Najafabadi from Shahin Shahr, and Bashir Ghavami.
According to "BahaiNews", these nine Baha'i citizens were denied entry to university due to the prohibition of higher education for Baha'is, after they had all participated in the entrance exams and had obtained permission to select their majors.
In previous years a number of Baha'i citizens who had been allowed to start their university education were expelled after being identified as Baha'is.
The first universal declaration of human rights, dated 10 December 1948, acknowledges equal rights for education for all human beings, regardless of race, color, belief, religion and gender.
In previous years, declaring an "incomplete file" for Baha'i university applicants was equivalent to a denial of education. It appears that this trend will continue this year.
The denial of education for Baha'is is based on the sanction of the Supreme Council of Cultural Revolution from 25 February 1991. Based on this resolution, Baha'i are deprived of higher education as well as employment in government bodies.
Following the Islamic Revolution and the announcement of the cultural revolution, such deprivation for Baha'i citizens has been implemented in a systematic manner.
_____
1. "BahaiNews" is an independent non-Bahá'í initiative and is not affiliated with any Baha'i institutions.