Source: BahaiNews1
Translation by Iran Press Watch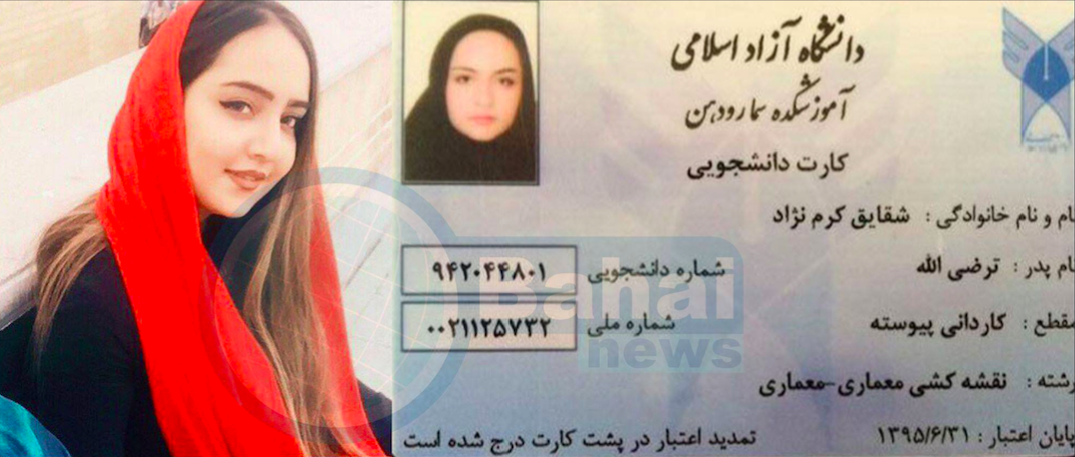 Because of her Baha'i beliefs, Shaghayegh Karamnezhad is one of the six students who have been expelled from Rudehen University this month.
Exactly two weeks prior to her exams, this student, who has been deprived of higher education, was summoned to the Protection Office of the university along with other Baha'i students. Immediately she thought, "Presumably I am going to be expelled".
She continues her story: "As my mobile phone was turned off, my father was contacted. He got in touch with me through another phone line, and told me that I had to go to the Head of the Protection Office. When I arrived at the Office, I noticed that one of my Baha'i friends was also there, and I became worried. I presumed that it had been decided to expel us from the school."
To Morteza Esmaielpour, the editor-in-chief of BahaiNews, Shaghayegh said: "Mr. Farrokhi, the Head of the Protection Office, gave me and my friend, who is also a Baha'i, a form, asking us to fill it in. The form asked many questions, including my personal details; my address, my religion and others. I was only concerned about the question about my religion. I clearly wrote Baha'i in the religion section, signed it and handed it over. We were told that because of the initial incomplete nature of our documents, they wanted to finalize them. This was a bit of a strange move as I was studying in my third term in the university and had never been told, during those three terms, about incomplete documentation. However, as the exam period was at hand, we were able to receive our exam cards, and after sitting for a few exams, I was unable to access the university's website to see the results of my exams. The university site repeatedly reminded me that either my student number or password was incorrect."
Miss Karam-Nezhad continued by saying to the BahaiNews reporter that she contacted a few of her Moslem friends and realized that they did not have any such problem accessing the site. She went on: "When I contacted my Baha'i friend, the same problem prevailed. After five days, on a Wednesday, I went to the university with my father to find out the reason. The first office we went to was the Office of the Site Administrator. Although the Office was very busy, because it was the exam period, I was able to talk to the responsible officer and was told that probably I had forgotten my password. I was given a new password and happily left the office, as I thought I had not been expelled. But later I still could not access the site. Again I contacted the Exam Office asking for my transcript, but I was not given it, as the Office was very busy during the exam period.
"I have contacted the Protection Office enquiring whether I have been expelled, but the Office had no knowledge of the case, and asked me to contact the university's management, suggesting that if there were such a case, they had not been told. They mentioned that the denial of access to the site would not have been organized from their office. I was told to check with the main Protection Office at the Rudehen Open University Complex."
Shaghayegh continues, "We went there, and after keeping my father and me waiting for some time, we were invited to the office, but they took our mobile phones."
According to this student: "The responsible officer of the Protection Office (at the university's Main Complex) had my file on his table. He asked me for my name, which was given. He said, 'Yes, I know you.' He was speaking in a very low tone, presumably to avoid the recording of his conversation with us. He directly said that we should leave, and it would be better to not come back anymore."
Miss Karamnezhad, in response to the question asking what conversation took place in the office, stated: "When we insisted on asking the reason, we were told, 'You know the reason.' We were advised that it would be better to leave and not come back any more. The same response was repeated a few times. We indicated that we would not leave the office until we received an answer. He repeatedly said that we knew it ourselves; and finally I complained and asked for a refund of my fees. The answer was negative, because, as he said: 'You took the place of another deserving student.' I insisted on asking if I had been I expelled or not? He said, 'No, you have not been expelled, but you decided not to continue your education any more by yourself.' I requested my transcript and he said, 'Because you decided not to continue your education, we are unable to give you the transcript.'"
A question was asked of this Baha'i citizen regarding the final outcome of the conversation in the office. Shghayegh continued: "I clearly told him that he was not really in charge and he got his orders from his superiors, and we left the room. Shortly, the Head of the Office called my father back, and I also went along. They asked me to sign a document in order to receive my certificate. My reply was, 'I am not going to sign anything, and if I do, I intend to take a picture of it, and will publish it in mass media.' As I said these words, he exchanged the document with a blank piece of paper. While the first one had the university letterhead, with the official seal of the Islamic Open University, the second one was just a simple blank piece of paper."
She said: "I took the original temporary completed certificate from my previous years, and intended to take a picture of it, when he grabbed it away from my hand. However, I was able to take a photo of it, and then I returned it back to him."
This student who was expelled from Rudehen University added that she was told that she should not go back to the Protection Office anymore, and that if she did, she would not be allowed to enter the Office. She continued: "In response to this denial I asked about the bank receipt for my initial tuition fee payment, which I had committed and signed for the university, and that I intended to have it refunded. I was told to go and get it from the University's Head Office. For this reason I went to my own college, Sama (a college of the Islamic Open University in Rudehen), and when I returned to the university, I noticed that everyone, including my friends and even the University's President, was not happy. In one instance the university's Protection Office mentioned that they had no knowledge of the case at all."
_____
BahaiNews is an independent non-Baha'i initiative, and is not affiliated with any Baha'i institutions.