Source: www.iranpressnews.com
Translation by Iran Press Watch
Tuesday, 30 May 2017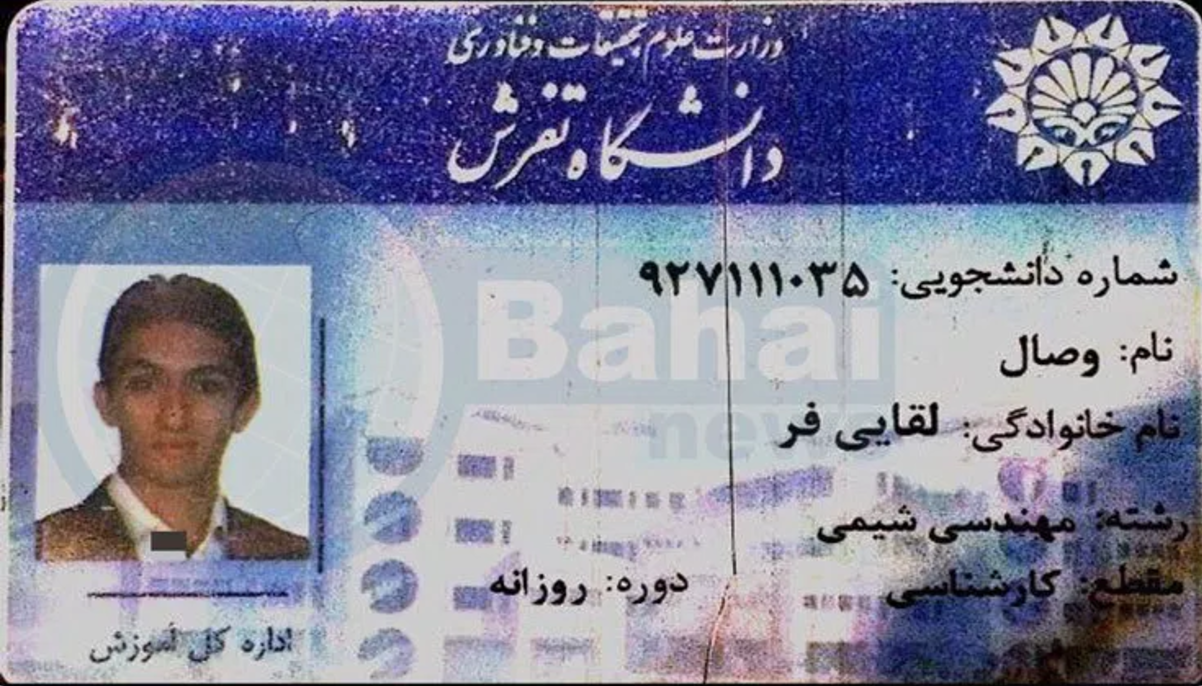 Daneshjoo Online: "Despite pressures to recant his belief in Bahá'í Faith, Vesal Laghaifar, a Chemical Engineering undergraduate student, was expelled from Amir Kabir University in Tafresh at the beginning of his seventh semester."
Mr. Laghaifar was accepted into Amir Kabir University in 2013. Following his fourth semester, he was denied access to the university's website while attempting to select his courses.  According to an informed source, "This expelled student was denied access to the university website when he attempted to select courses for his fifth semester.  After repeated follow ups with the university officials, it became clear that he had been denied education due to being a Bahá'í."
This informed source added "University officials referred his to the Educational Measurement and Evaluation Organization.  After repeated follow ups with that organization, as well as the related department, the officials told his explicitly that this is how it has been for many years and there is no other way."
Mr. Laghaifar persevered and following repeated visits to the university, Ministry of Higher Education, and the office of Iran's President, he was able to continue his studies for two more semesters.
In the middle of his sixth semester Mr. Laghaifar was approached by two individuals, who introduced themselves as employees of the Ministry of Higher Education.  They interrogated him for approximately two hours. An informed source reported, "It was obvious that, these individuals were from the Revolutionary Guard's Intelligence office." Following the interrogation, the agents gave him a form which consisted of two sections.  One section basically said, "I am a Bahá'í who was born in a Bahá'í family. I obey the Regime and the Supreme Leader, and will refrain from participating in the decadent Bahá'í meetings." The other section only contained the statement, "I obey the infallible Universal House of Justice."   Explaining the form, "they told Vesal Laghaifar that he did not need to pay attention to the text. The first section meant he was recanting his previous Faith, and the second one meant, he was keeping his Faith. They told him that, he could continue his education if he filled out the first section, and would be expelled if he kept his Faith and filled out the second section."
Despite the pressure to recant his religious beliefs, Mr. Laghaifar did not accept the offer of the agents. He was denied access to the university website at the beginning of his seventh semester, and was finally expelled from university.
Mr. Laghaifar is among a number of other Bahá'í citizens who, over the past few days, were either expelled or were denied access to their diplomas. Their number includes Farzan Masoumi, Farzad Safai and Vafa Hoveydai, who was also a student at Amir Kabir Technical University.