Source: www.justice4iran.org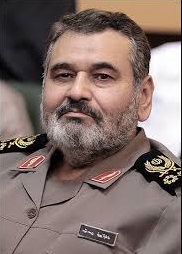 Witness Accounts of Alleged Violations and Crimes.
As Chief of Staff of the Iranian Armed Forces, Major General Hassan Firouzabadi has been involved in violating the civil and human rights of Bahá'ís. In 2005, he issued an order classified as 'Top Secret' to all military and security forces (i.e., the Ministry of Intelligence, the commander of the IRGC, the commander of the police force) ordering surveillance of Bahá'í community members, including– but not limited to– commercial, cultural, political, and social activities. Details of the surveillance were to be reported back to him.
Major Firouzabadi noted that the orders originated with Khamenei who asked for the identification and monitoring of adherents to the Bahá'í Faith, calling it a "misguided sect."
The United Nations Special Rapporteur of the Commission on Human Rights and Freedom of Religion or Belief, Asma Jahangir issued a statement expressing her concerns about this order, stating:
"… such monitoring constitutes an impermissible and unacceptable interference with the rights of members of religious minorities. She also expresses concern that the information gained as a result of such monitoring will be used as a basis for the increased persecution of, and discrimination against, members of the Bahá'í Faith, in violation of international standards."
On 10 October 2011, the European Union published the names of 29 officials of the Islamic Republic of Iran including Seyyed Hasan Firuzabadi whom the E.U. asserts are "responsible for serious human rights violations" and is thus subjecting to travel bans and asset freezes.
Supporting documents:
Comment 40 of the Special Rapporteur's statement indicates Asma Jahangir's concern regarding the case of the Bahá'ís in Iran: Read on unhchr.ch website
His biography and background information:
Read on Hashemi Rafsanjani website
The following report includes details pertaining to the systemic and nation-wide obstacles set for Bahá'ís in order to block their access to the
right to work: http://news.bahai.org/documentlibrary/TheBahaiQuestion.pdf
The document below is a copy of the 2005 order issued and signed by Hassan Firouzabadi