Source: www.hra-news.org
Translation by Iran Press Watch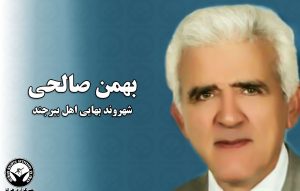 HRANA News Agency – Bahman Salehi, a Baha'i from Birjand, was transferred to the hospital after posting bail and securing a temporary release from prison. Mr. Salehi was suffering from blood clots and a burst blood vessel brought on by harsh conditions endured during his interrogation while incarcerated.
According to the HRANA, the news agency of Human Rights Activists in Iran, Mr. Salehi, who was detained on November 18th, 2017, along with two other Baha'is (Khalil Malaki and Saghar Mohammadi), has been granted temporary release after posting 150 million toumans bail. Immediately following his release, Mr. Salehi's family had him transferred to the hospital, where he was admitted and currently remains.
A source informed of Mr. Salehi's situation told HRANA, "Mr. Salehi suffers from varicose disease, however, during the course of his interrogation, with no regard to his physical health, he was interrogated in a standing position for long hours at a time, which caused a tear of the blood vessels and formation of blood clots. Not only did security agents and interrogators not care about his medical conditions during the interrogation, but even afterwards when he started showing severe signs of medical issues, they did not take action to transfer him to a health center."
Despite the concerns of Mr. Salehi's doctor about the possibility of his blood clot traveling to his lung a condition with the risk of death, for the moment his general condition has been reported to be satisfactory.
Mr. Salehi endured a previous arrest, along with 9 other Baha'is from Birjand area, on October 21, 2017, following a search of their houses.  Although no specific reason has been given for the arrest of these individuals, the timing of their arrests coincided with the date of one of the Baha'i Holy Days.