Source: www.bahaicamp.com
Translation by Iran Press Watch
Date 20 December, 2017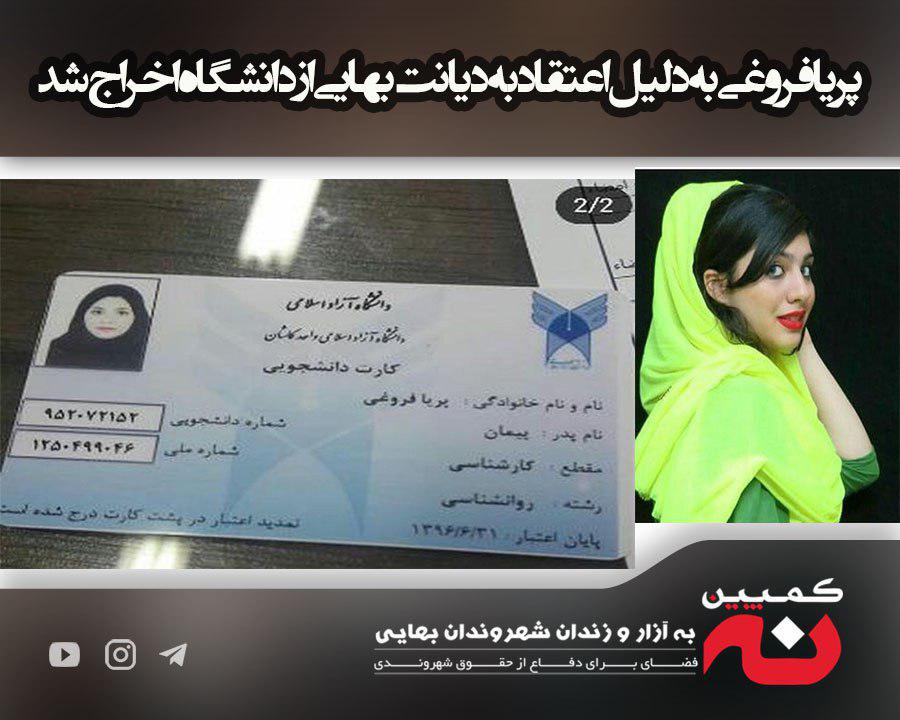 According to the reports by Baha'i Campaign, Paria Foroughi was expelled from the Azad University of Kashan due to her belief in Baha'i Faith.
Ms. Foroughi was expelled by the president of Azad University of Kashan, despite having studied in psychology at the for the past three semesters.
Ms. Foroughi shared the following:
"I was sitting for an exam when I was summoned to the university president's office, and there I became aware of this, and an extraordinary sorrow overcame me."
"The head of the university objected to the incompleteness of my registration form, and then I saw the form, he said 'you have completed everything but the religion field, why did you not write your religion?' I said I might have forgotten. He said, 'no, it was not accidental that you forgot your religion. What is your religion?' I said, 'Baha'i.' He said, 'write it down', and I did. He said, 'You know that according to the Islamic Republic's law, you do not have a right to education?'  I said 'yes', he said, 'Then wrap-up what you need to do and resign.' I said 'no you are expelling me from the university, I did not resign. You are expelling me due to my belief.'"
"He then said, 'This law is for everyone.' I answered, 'Excuse me, but students from all the other countries have the right to study at the universities in our country, and I have no right to study in my own country? Is this correct and fair in your opinion?'  He answered, 'it is certainly correct', and asked, 'Why did you say you are a Baha'i, to cause your expulsion?' I answered, 'Truthfulness is the foundation of the Baha'i Faith', he said, 'You have no right to study at this university, nor any other universities in Iran', and laughed. I answered, 'I'm proud that I was expelled due to my pure belief, there is no problem."
"Incomplete forms" are a ploy routinely used by the National Evaluation Center and University System nationwide, as an excuse to dismiss enrolled Baha'is from university, or to prevent Baha'is from entering Graduate or supplementary schools.
According to the secret decree of the Supreme Council of the Islamic Cultural Revolution of the Islamic Republic of Iran, the Baha'is, in addition to denial of public and governmental employment, are deprived of university education. Although this practice has been repeatedly challenged by human rights organizations and the international community, the Iranian government has not only shown no signs of any change, but has tried multiple times to dismantle the Baha'i Institute for Higher Education (BIHE), the only option for Baha'i students deprived of university education in Iran, which was set up with the help of the members of this religious minority. Instructors and students of BIHE often face arrest and trial resulting in long-term imprisonment.