Source: www.hra-news.org
Translation by Iran Press Watch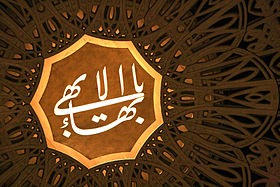 HRANA News Agency ‒ Seven Baha'i citizens living in Yazd have been sentenced to three years imprisonment and exile by the third district court of appeals.
According to the HRANA news agency, the Third Branch of the Yazd Appeals Court has condemned seven Baha'i citizens to jail and exile to Saravan and Divandareh.
Mehran Islami Amirabadi and Mehran Bandi Amirabadi have been sentenced to one year and a half of incarceration and a year of exile to Saravan and Divandareh respectively.
Also, five other citizens ‒ Sorour Forooghi Mehdiabadi, Farzad Rouhani Manshadi, Ramin Hassouri Sharafabadi, Mohammad Ali Tadrisi, Ahmad Jafari Naeimi ‒ have been sentenced to three years of imprisonment by the same court.
However, Ezatollah Khorram, another defendant in the case, has been acquitted.
Mr. Eslami was arrested on November 10, 2012 along with 19 other Baha'is, and sentenced to one year of imprisonment and a one year suspended sentence on charges of propaganda against the regime and propaganda in favor of groups or organizations opposing the Islamic Republic of Iran. Now, by executing his previous verdict, he will probably be subjected to two and a half years of imprisonment.
Baha'is in Iran are denied religious freedoms. This systematic deprivation is practiced, although in accordance with Article 18 of the Universal Declaration of Human Rights and Article 18 of the International Covenant on Civil and Political Rights, to which Iran is a signatory, every citizen has the right to freedom of religion, and the right to be converted from any religion in accordance with their personal convictions, as well as the freedom to express this individually or collectively, and publicly or privately.
According to unofficial sources in Iran, there are more than 300,000 Baha'is there, but the Iranian constitution recognizes only the religions of Islam, Christianity, Judaism and Zoroastrianism, and does not recognize the Baha'i Faith; therefore for the last 39 years since the founding of the Islamic Republic Baha'i rights have been systematically violated in Iran.