Source: iran-hrm.com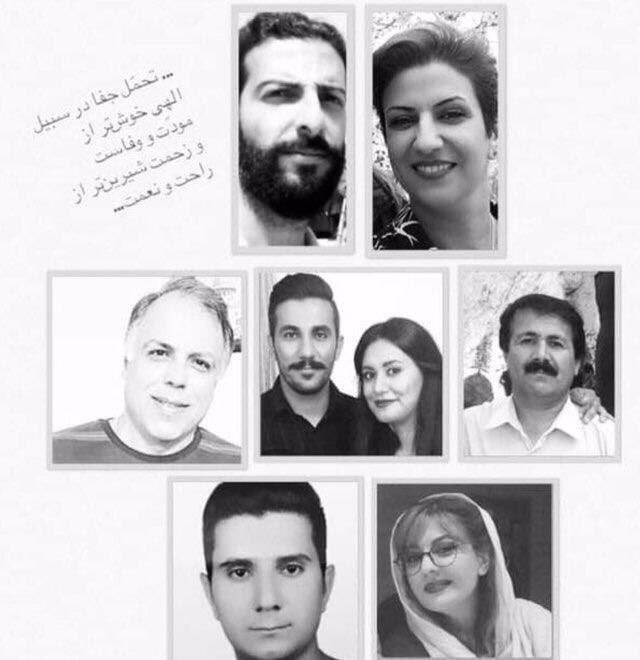 In a wave of persecution of Baha'is in Iran, eight members of Baha'i community in Isfahan, were sentenced to a total of 42 years behind bars.They had been arrested on September 23. According to the verdict, Afshin Bolbolan, Saham Armin, Milad Davaran, Farhang Sahba and Anoush Rayneh were each sentenced to six years behind bars while Fozhan Rashidi and Sepideh Rouhani each received four years. No information is available on the charges brought against the eight Baha'is.
They were arrested on September 23, following home raids. The state security forces inspected their homes and confiscated their personal items.
Recently the Iranian government started another crackdown against Iran's Baha'is as they are systematically persecuted.
In a wave of persecution of Baha'is in Iran, the state security forces raided the house of Baha'i woman Mojgan Khoshhal in Isfahan on November 15, 2018, arresting 18 Baha'i citizens.
Earlier, two Baha'i women residing in Mashhad, Mrs. May Kholousi and her daughter, Saghi Fadaii, had been taken to the Prison of Mashhad on October 31, 2018, to serve their sentences.
The two Baha'i women had been ordered in March to spend one year in prison by the 3rd Branch of the Revolutionary Court of Mashhad for disseminating propaganda against the state. The Revision Court upheld this verdict on August 26, 2018, and the two Baha'i women were finally transferred to the Prison of Mashhad.
There are numerous bitter examples of the crackdown on members of Iran's Baha'i community during the past days.
#Iranian Baha'is Milad Davardan and Fozhan Rashidi, were sentenced to six and four years behind bars respectively.
Recently the government started another wave of crackdown against #Iran 's Baha'is as they are systematically persecuted.https://t.co/TwmbtoZI3G pic.twitter.com/8xtr8LL8lX

— IRAN HRM (@IranHrm) November 22, 2018
Most recently, the body of a Baha'i woman identified as Shamsi Aghdasi Azamian was taken out of her grave in Gilandvand, a town in Damavand, few days after she was buried in the Baha'i Golestan Javid Cemetery.
After Shamsi Aghdasi Azamian died on October 22, 2018, her family buried her in a cemetery in the nearby city of Damavand in Tehran Province.
Days later, the body of a Baha'i woman Shamsi Aghdasi Azamian, was taken out of her grave and thrown in the surrounding fields.
Though the act of desecration was carried out by unknown persons and no one has taken responsibility, security forces had warned Baha'is in Gilandvand that they were not allowed to bury their deceased loved ones in this graveyard and had to bury them in Tehran.
After the body was found, security forces told her son that he had to transfer the body to the Behesht Zahra Cemetery in Tehran.
"He refused because the distance between Gilanvand and Tehran was more than an hour, because according to Baha'i burial rites, the distance between the place of death and burial should be no more than an hour away," according to a close source. "Therefore, agents transferred Ms. Azamian's body to Tehran themselves without the family's permision".
The Baha'i community is one of the most severely persecuted religious minorities in Iran. Iran's Constitution does not recognize the faith as an official religion. Although Article 23 states that "no one may be molested or taken to task simply for holding a certain belief," followers of the faith are denied many basic rights as one of the most severely persecuted religious minorities in the country.