Source: www.radiofarda.com
Translation by Iran Press Watch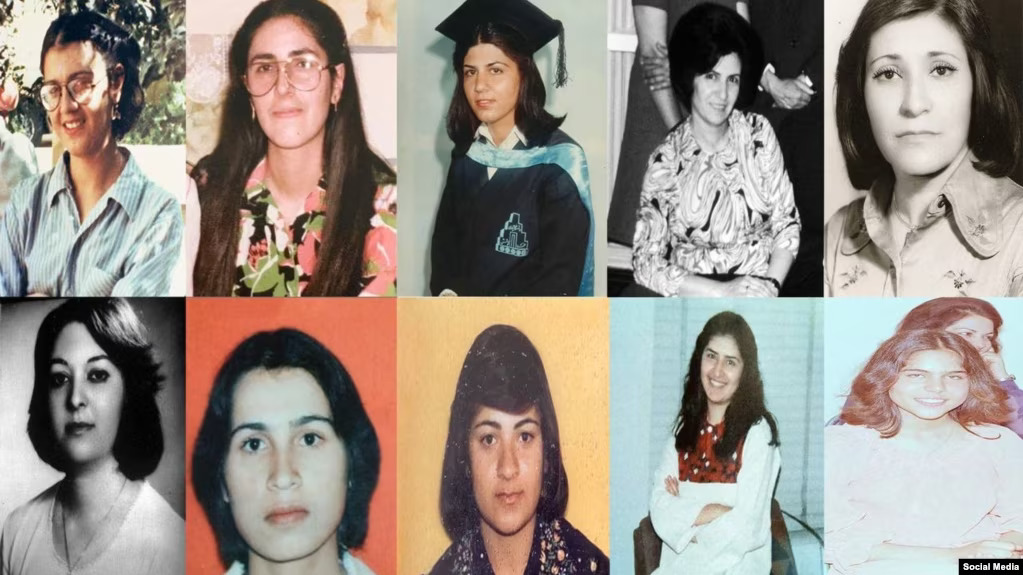 The hanging of these women is considered the only case of mass execution of Baha'i women and at the same time the last case of execution of Baha'i women during the Islamic Republic of Iran.
In the fall of 1982, approximately one hundred Baha'i men and women were arrested in Shiraz, Iran. The arrests were part of a systematic and widespread persecution of Baha'is across the country that resultedin the execution of a number of those detained, including the mass execution of ten women on June 18, 1983, in Shiraz's Chogan Square.
The hanging of these women is considered the only case of mass execution of Baha'i women and at the same time the last case of execution of Baha'i women during the rule of the Islamic Republic.
The youngest of these women was Mona Mahmoudnejad, who was 17 years old. The eldest was 57-year-old Ezzat Janami, who was executed along with her daughter Roya Eshraghi. The women had participated in various activities of their Faith and some were active in administration of the Baha'i community of Shiraz.
The crime authorities of the Islamic Republic accused these women of was "religious education of young children".

Who Were these Ten Executed Women?
The youngest to be executed was Mona Mahmoudnejad. She was only 17 years old at the time of her execution. Her father had been executed four months prior to her execution.
Simin Saberi, 25 years old, was a former secretary of an agricultural company. Simin had been fired from her job prior to her arrest, for being a member the Baha'i faith.
Akhtar Sabet, 25 years old, was a nurse and teacher of Baha'i children. In December of 1978, a mob targeting Baha'is attacked and looted Mrs. Sabet's family's home and shop.
Zarin Moghimi, 29 years old, was a graduate of English literature and an employee of Marvdasht Petrochemical Company. Her mother and father were also among the Baha'is arrested in Shiraz.
Mahshid Niromand, 28 years old, was s Shiraz University physics graduate. Mrs. Niromand was familiar with three languages, English, German and French, and oversaw education of Baha'i children.
Shirin Dalvand, 26 years old, graduated in sociology from Shiraz University. Although Mrs. Dalvand's family had emigrated to England, she had chosen to stay in Iran. She was living with her grandmother at the time of her arrest.
Roya Eshraghi was 23 years old. She was student of veterinary medicine at Shiraz University but following the revolution she expelled from the university due to being a Baha'i.
Ezzat Janami, was 57 years old. She is the mother of Roya Eshraghi. Mrs. Janmi's husband and Roya Eshraghi's father, Enayatollah Eshraghi, were executed on June 18, 1983, along with five other Baha'i men, two days before she and her daughter's execution.
Nosrat Ghofrani, 46 years old, was a member of the Shiraz Baha'i Spiritual Assembly. Her son, Bahram Yaldai, was executed on June 18, 1983, two days before she was.
Tahereh Arjomandi, 30 years old, was a nurse. Prior to her arrest she was fired from her job due to being a Baha'i. Mrs. Arjomandi's husband, Jamshid Siavashi, was executed June 18, 1983, the same time as Enayatollah Eshraghi and Bahram Yaldai.
From Arrest to Execution
The arrests of the ten women occurred at various times in the fall of 1982. Most were arrested at their private homes.
Nosrat Ghofrani was arrested on October 1, 1982, along with her husband and son, Bahram Yaldai. The interval between her arrest and her execution was about eight months.
Mona Mahmoudnejad, Simin Saberi, Tahereh Arjomandi and Akhtar Sabet were arrested in late October 1982. Five other women were also arrested on November 29, 1982, by IRGC forces.
The officers of the IRGC initially took the arrested women to the IRGC detention center. This detention center now belongs to the Ministry of Intelligence of the Islamic Republic, known as "Ward 100".
Other Baha'is who were arrested at the same time as the ten women have described the interrogation and torture they were subjected to as "long and very severe".
45 days of the arrest of the last of the women, they were transferred to Adel Abad prison. They remained there until their execution.
At this time, the newspaper "Khabar Jonub" reported on February 12, 1983, "22 Baha'is were sentenced to death in Shiraz in connection with the House of Justice of Israel." The report only mentioned that they were members of the Local Spiritual Assembly of Baha'is of Shiraz but did not mention their names.
"Spiritual Assembly" refers to a board responsible for handling the administrative affairs of the Baha'i community in that locale. The Assembly consists of nine people elected annually by adult Baha'is in each city or village.
This was not the first time that Baha'is suffered the death penalty in Shiraz. In several previous cases Baha'is were executed by gun or hanging in Shiraz for charges of "connection with Israel" and "espionage".
Twenty days after the announcement of February 12, 1983 Khabar Jonub report, the Ruler of Sharia and the head of the Shiraz Revolutionary Court at that time, known as "Hojjat-ol-Islam Ghazaie", gave a detailed interview with Khabar Jonub, in which he characterized Baha'i Spiritual Assemblies as "evil" and stated that 500 cases against the Baha'is were under investigation in the Revolutionary Court.
To support his claim that the Baha'is are "Israeli spies", he presented this argument, "The Baha'is religiously consider themselves obliged to follow the House of Justice, and the House of Justice considers itself obliged to follow the government of Israel in terms of the Baha'i religion." Accordingly, he called members of the Bahá'í administration "clear examples of infidels and organizational militia". He did not mention the names of the Baha'is sentenced to death in this interview.
March 12, 1983, nine days after this interview, two Baha'i men and one woman were hanged. Yadollah Mahmoudnejad, Mona Mahmoudnejad's father, was one of them.
Informed sources have told Radio Farda that Mr. Mahmoudanjad was able to meet his daughter and wife, who were in custody, before the execution. It is said that in this meeting Yadollah Mahmoudnejad, based on the interrogations he had undergone, understood that he was going to be executed and told them he was not "earthly" but "heavenly".
May 23, 1983, a few months following Khabar Jonub's publications of the death sentences, Ronald Reagan, the President of the United States at the time, issued a statement asking world leaders to join him in preventing the Iranian government from implementing the execution of 22 Baha'is.
In his statement, Mr. Reagan pointed out that 113 Baha'is had been executed since Ruhollah Khomeini came to power in Iran. He stated the twenty-two individuals currently under death sentence "were not involved in any political plan or regime overthrow and did not cause anyone's death."
May 27, 1983, three days after President Reagan's statement, Ruhollah Khomeini, used the occasion of his speech on the 12th Shiite Imam's birthday to responded sarcastically to the American President, saying, "Do you [Reagan] know what the Baha'is have done, or do you know what is going on before you speak?" Or are you just prophesizing? If we have no other reason to believe that they are American spies, Reagan's support for them alone is enough."
Upon hearing these words from Khomeini, the families of the condemned Baha'is knew that more executions were coming.
Nahid Eshraghi, Roya Eshraghi's sister and Ezzat Janami's daughter, told Radio Farda that Reagan's message and Khomeini's response in his speech were the "main reason" for the execution of her mother and sister.
Mohammad Moghimi Abianeh, Zarin Moghimi's brother, in an interview with Radio Farda said that when he heard Reagan's words, he told his wife, "It's very bad, when America says something, they do the opposite."
A few hours before the execution, on the afternoon of June 18, the prisoners were allowed to meet their families. The families said that their imprisoned loved ones told them in the pre-execution meeting that the interrogators tried to make them "repent". The interrogators gave them two options, "Islam or execution."
According to witnesses, these women affirmed their belief in the Baha'i Faith and "did not convert to Islam".
A few hours after the meeting and only three weeks after Ruhollah Khomeini's speech, these ten Baha'i women were executed by hanging on June 18, 1983.
The bodies of their loved ones were not released to the families. Only a few of the family members, including Mona Mahmoudnejad's mother and Zarin Moghimi's mother, were allowed to see the bodies in the morgue. Islamic Revolutionary Guard Corps buried the bodies of these women secretly and en masse in the old cemetery of Shiraz known as "Golestan Javid". One year later Golestan Javid was confiscated by the authorities. It 2014 it was destroyed.
Unanswered Questions
Four decades after the mass execution of Baha'i women in Shiraz, there are still unanswered questions about why and how these women were executed.
It's understood that their participation in Baha'i Administration, Baha'i children's education, as well as transcripts from their interrogations showing how they answered their interrogators, were factors that led up to their conviction and execution. But it is interesting to note that other Baha'i women detained during that period, "there have been similar cases" those women were released from custody after a period of time. .
It is curious that from the statements of Hojjat-ol-Islam Ghazaie and Ruhollah Khomeini differed in their characterization of the alleged allegiances of the women. This detail was ignored in the tense atmosphere of that time.
Khomeini accused these ten women of "collaborating with America" in his speech. Ghazaie, in his claims, never mentioned any connection to America, rather, he stated these individuals were accused of "collaborating and spying with Israel".
Ghazaie, in referring to the ten women, specifically characterized membership in Baha'i Spiritual Assembly as "equal to cooperation with Israel." However, among the ten, only Nosrat Ghofrani was a member of Shiraz Bahá'í Assembly. The other nine did not serve on Spiritual Assemblies.
In an interview with Radio Farda, family members expressed their shock after hearing the news of the execution of their family members and did not expect them to be executed.
Mohammad Moghimi, Zarin Moghimi's brother, told Radio Farda: "Zarin's execution was the biggest shock of our lives. Why Zarin? I thought they would execute my father, who was in custody at the same time and was more well-known and older than him; But I didn't expect my sister to be executed at all."
Informed sources have told Radio Farda that among many people arrested and involved in this issue, Mona Mahmoudnejad was among the last who they believed was likely to be executed. First, because of her young age, and second, because this 17-year-old teenager had no organizational responsibility in the administration of the Baha'i community.There is some reason to suspect that the arrest and execution of Mona Mahmoudnejad was part of a predetermined plan. Azadeh Rohaniyan, one of Mona Mahmoudnejad's friends, told Radio Farda that Mona friend had mentioned several times about a man following her in the alleys and streets (prior to her arrest). Once, after being followed to one location, she remained in that building for two hours. When she came out, the man was waiting for her continued to follow her..
At the same time, Mrs. Mahmoudnejad's relatives mention the content of Mona's school essays, one of which was critical of the persecution of Baha'is, and "her answers under to interrogators" as factors in why she was subjected to a death sentence.
There is also no clarity about the exact time of the execution of these women. On the afternoon of June 18, their families had their last visit with them in prison. This is documented by the prison visiting logs and statements of the families.. Following the visitation, , according to other women prisoners at that time, the ten women were not allowed to re-enter the prison.
On June 19, the next day, when the execution of these women was announced, some family members saw the bodies at 10:00 AM. . Witnesses have said that there were visible rope marks on the necks of each of the women.
Statements from some of the agents of the execution of this sentence, the Baha'i women were executed "in the final hours of June 18". But as there are no official documents or reliable witness in this regard, this cannot be confirmed with certainty.
According to many family members of these women, until " an independent investigation is held in court" and " documents provided," along with "the official testimony of the issuing and executing agents", their questions will remain unanswered.