Source: Narges Mohammadi
Some friends & companions of Fariba Kamalabadi and Mahvash Shahriyari, on the anniversary of their detention, have offered a poem to these two dear ones, highlighting the persecutions of Baha'is in Iran.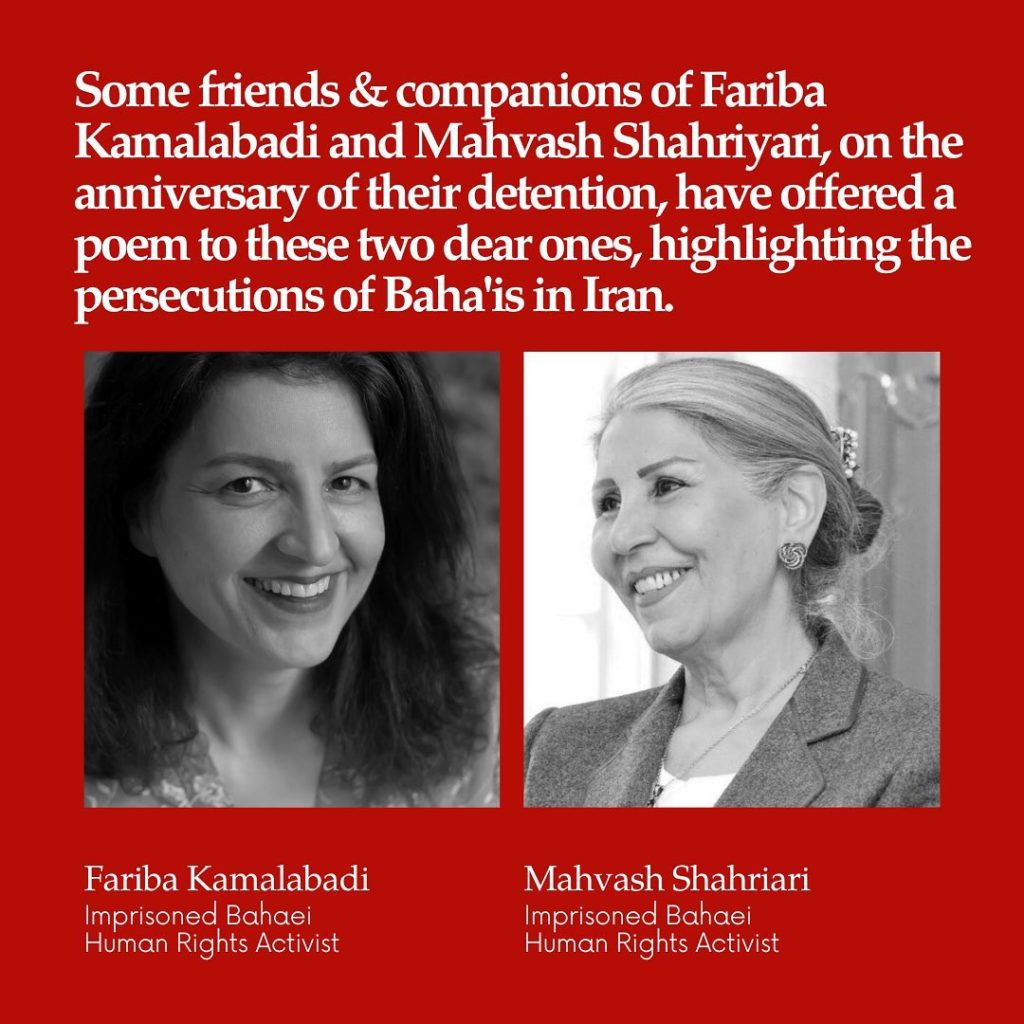 Previously, Mahvash Shahriyari and Fariba Kamalabadi were sentenced to death in the initial trial, which was later reduced to twenty years in prison, and then to ten years.
They spent about three years in solitary confinement in Mashhad and Evin Prison's Ward 209 and endured over eleven years in Gohardasht, Karaj, Qarchak, and Evin prisons. Mahvash Shahriyari was released in Shahrivar 96, and Fariba Kamalabadi was released in Aban of the same year after completing the ten-year sentence.
However, in the summer of 1401, they were rearrested and, without presenting any evidence of committing a crime, were sentenced to ten years in prison by Iman Afshari.
Currently, they are serving their sentence in the women's ward of Evin Prison.
In 96, when they were released after ten years of imprisonment, we did not expect them to be sentenced again. Again, they were arrested, kept in solitary confinement, and interrogated. Another ten- year sentence, which could turn into twenty years for each of them. Twenty years away from home. Twenty years away from embracing their children. All because of their beliefs, convictions, and a different faith from those in power.
A year ago, in these very days, the news of Mahvash Shahriyari and Fariba Kamalabadi's arrest reminded us of the bitterness of their previous years in prison and solitary confinement. Mahvash and Fariba have spent more than eleven years of their lives in prison, and about three years in solitary confinement. They have been deprived hundreds of times of embracing their children and kissing their grandchildren, who were born during the long years of imprisonment. And they have been deprived for over four thousand days of their freedom.
The renewed sentencing of our friends and the deprivation of the Baha'i community of all civil rights from childhood to old age and even at the time of burying their loved ones stem from the irrationality and bigotry. It is a weakness in the face of a truth that was not exchanged for freedom. The steadfastness in belief and conviction is a lesson we learn from our friends, although their imprisonment has doubled the bitterness of our days.
A whistle echoes in the void
A guard's whistle in the city
A court is held
A man in the defendant's place
In the court of the judges
He must seek justice for injustice
A justice that becomes injustice itself
The fugitive
Against two condemned
Standing in the place of the accused
An accused criminal
A scream echoes in the void
The reading of a verdict
The second ten years begin
Of a sentence
Perhaps
Endless
A cry echoes in the void
The cry of the city's people
The walls collapse
The barriers break apart
The street embraces the condemned
The condemned embrace freedom
And the city's people embrace a dream of a better future.
Nargess Mohammadi Golrokh Iraee Nahid Taghavi Niloufar Bayani Sepideh Kashani Faizah Hashemi Sepideh Kashavarz Golareh Abasi Hasti Amiri Shiva Nazar Ahari Zhila Makvandi Nassim Bagheri Sholeh Ta'ef Zhila Shahriari Mahsa Amrabbadi Mina Rezayi Farokh Zhila Bani-Yaghoub Susan Tabianian Sahba Rezvani Farnaz Mazzloum Azadeh Abedini Parisa Sadeghi Hakimeh Shokri Puran Nazemi Afsaneh Emamzadeh Shahla Rahmati Hala Gholami Narges Zareifian Nassim Ashrafi Zahra Sadeghi Nazanin Zagari Mahdieh Golrou Razavaneh Mohammadi Atena Daemi Maryam Shafi'pour Ars Amir Atefeh Nabavi Shahnaz Akhlaghi Mahnaz Saeed Marzai Lava Khanjani Sadegheh Hossein-Zadeh Leila Hosseinzadeh Azita Rafiezadeh Naghin Ghodratiyan Aaliyah Motalebzadeh
Aug 2023