Source: www.bic.org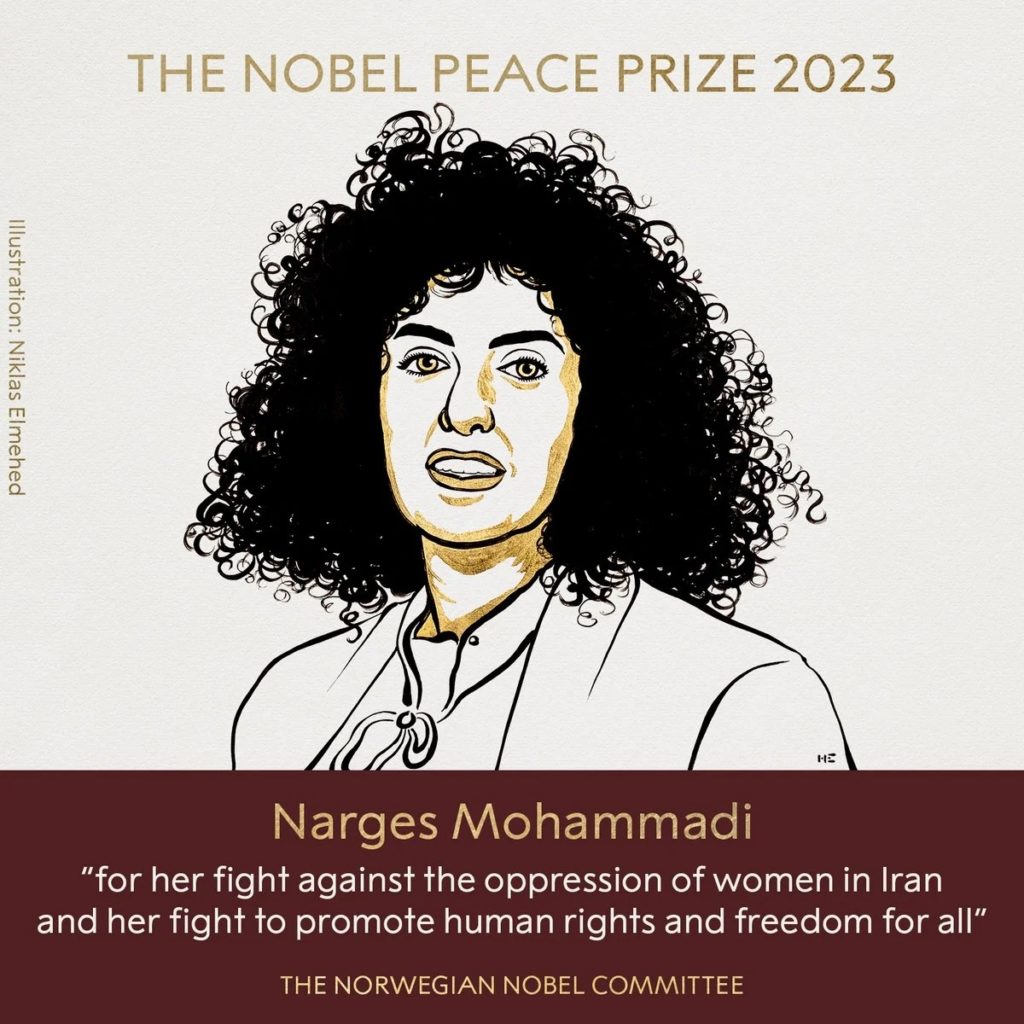 NEW YORK—6 October 2023—The Baha'i International Community sends its sincere and joyful congratulations today to the 2023 Nobel Peace Prize winner Narges Mohammadi.
Ms. Mohammadi is an Iranian human rights and women's rights activist par excellence. Her first arrest by the Iranian authorities occurred in 1998; since then, she has been arrested 13 times, convicted five times, and faces jail sentences totaling 31 years in prison as well as 154 lashes of the whip.
The Nobel committee recognized Ms. Mohammadi for "her fight against the oppression of women in Iran and her fight to promote human rights and freedom for all." The Baha'i community, whose members have themselves been persecuted for 44 years under the Islamic Republic, is also committed to these values. All women human rights defenders in Iran are also honored by this award.
Our congratulations are tempered with sadness that Ms. Mohammadi remains incarcerated in Evin Prison. The Baha'i International Community has in the past called for her release. We are dismayed that this call—along with our call for the full recognition of the rights of all Iranians, including Baha'is and members of other minorities—remains ignored by the Iranian authorities.
Two Baha'i women also unjustly jailed in Evin, Mahvash Sabet and Fariba Kamalabadi, will at least be able to celebrate the award with Ms. Mohammadi within the prison. The new Nobel laureate has many times called for the release of Mrs. Sabet and Mrs. Kamalabadi, prisoners of conscience and fellow inmates, both now and when all three were incarcerated during the previous decade. Ms. Mohammadi also added her voice to the recent Our Story Is One campaign that commemorated the 1983 execution of 10 Baha'i women in Shiraz and supported Iranian women's quest for gender equality and human rights.
The international community today offered one of its grandest platforms to Iran's struggle for gender equality and human rights. We hope that Narges Mohammadi—and all Iranians—will draw strength from this moment and continue their effort for equality and justice in Iran.