Source: bic.org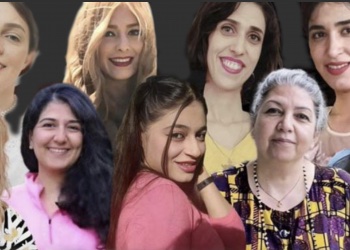 GENEVA—26 October 2023—In an escalating pattern of persecution against the Baha'is in Iran, 36 more incidents targeting the community have taken place in recent days, affecting mostly women. Ten women, most of them young, were arrested as part of these incidents while 26 additional individuals, 16 of whom were also women, have been sentenced to a total of 126 years in prison.
The 10 Baha'i women were arrested in Isfahan, in central Iran, earlier this week. Three others have also been arrested in Yazd. Three others have had court hearings and await sentencing.
The arrests took place after homes were raided and the personal property of several individuals was confiscated, including electronics, books, cash and gold. More than 10 agents were reported to have raided the home of one of the women during her arrest.
The raids also targeted the home of an elderly Baha'i woman whose husband had been executed in the 1980s for being a Baha'i—although she was not arrested.
The execution of her husband which was followed by decades of persecution against her family, including against her children and grandchildren who were deprived of many rights including the right to go to university, exposes the cradle to grave persecution faced by every Baha'i in Iran.
"Every one of the Baha'i individuals arrested, and whose homes were raided by the Iranian government, indeed every Baha'i in Iran, has a lifelong story of persecution which has affected every facet of their lives. These stories are a chilling testament to decades of heartless persecution against an entire community, only for their beliefs," said Simin Fahandej, Representative of the Baha'i International Community to the United Nations in Geneva. "And as we see women in Iran targeted in general, Baha'i women face even greater persecution, not only as women but also as Baha'is, further demonstrating how, today, all Iranians face persecution and discrimination only for daring to stand up for justice and equality."
"The international community must hold the Iranian government accountable for its human rights violations," Ms. Fahandej said. The 10 women arrested this week have committed no crimes. The dozens sentenced to years in prison are also innocent. All they want is to serve their society. But instead of their contributions being welcomed, they are put behind bars, and the Iranian government deprives its entire society of some of the most capable individuals in its society."
The Baha'i International Community recently launched the #OurStoryIsOne campaign, in honor of 10 Iranian Baha'i women executed 40 years ago this year for their beliefs. The campaign seeks to demonstrate that the persecution of the Baha'is in Iran is part of the same story of the struggle for gender equality and justice. The campaign showed that for Iranians all their stories are chapters of the same interconnected story of building a new Iran, through sacrifice and resilience, where everyone lives and prospers regardless of faith, background and gender.
"By increasing the persecution against Baha'i women in Iran, the Iranian government is further demonstrating that all Iranians are facing the same struggle for equality and freedom, as so emphatically demonstrated by the #OurStoryIsOne campaign. The campaign is the response of the Baha'i community after decades of efforts by the Iranian government to use hate speech and division—showing that Iran's efforts to drive a wedge between Baha'is and others has been fruitless," Ms. Fahandej said. "If the Islamic Republic can learn one thing from its 44 years of cruelty, it is that its continued persecution of the Baha'is has been counterproductive, raising awareness of the situation of the Baha'is, creating stronger solidarity between the Baha'i community and the wider population in Iran and proving to the international community the innocence of the Baha'is in the face of relentless oppression."
The latest arrests and prison sentences follow more than a year of intensified attacks on Iran's Baha'i community. Dozens of other Baha'is have been either arrested, tried, summoned to begin prison sentences, barred from higher education or earning a livelihood over recent months. And in August the Baha'i International Community reported that 180 Baha'is had been targeted—including one 90-year-old man, Jamaloddin Khanjani, who was detained and interrogated for two weeks.
Two other Baha'i women, Mahvash Sabet and Fariba Kamalabadi—who along with Mr. Khanjani and four other Baha'is spent a decade in prison from 2008 to 2018—were re-arrested in July 2022 and are now each serving a second 10-year jail term.
Additional information on the 36 latest cases of persecution of Baha'is in Iran
The 10 women arrested by agents of the Ministry of Intelligence in Isfahan are Neda Badakhsh, Arezou Sobhanian, Yeganeh Rouhbakhsh, Mojgan Shahrezaie, Parastou Hakim, Yeganeh Agahi, Bahareh Lotfi, Shana Shoghifar, Negin Khademi, and Neda Emadi, and took them to an unknown location.
Ms. Shokoufeh Basiri, Mr. Ahmad Naimi and Mr. Iman Rashidi, were also arrested and remain in the detention center of the Yazd Intelligence Department.
Ms. Nasim Sabeti, Ms. Azita Foroughi, Ms. Roya Ghane Ezzabadi and Ms. Soheila Ahmadi, residents of Mashhad, were each sentenced to three years and eight months in prison by the Revolutionary Court of this city.
Mrs. Noushin Mesbah, a resident of Mashhad, was sentenced to three years and eight months in prison.
The sentence of four years and one month and seventeen days of imprisonment and social deprivation of Mrs. Sousan Badavam was confirmed by the appeals court of Gilan province.
Mr. Hasan Salehi, Mr. Vahid Dana and Mr. Saied Abedi were each sentenced to six years, one month and seventeen days of imprisonment under the supervision of the electronic system, fine and social exclusions by the first branch of Shiraz Revolutionary Court.
Mr. Arsalan Yazdani, Mrs. Saiedeh Khozouei, Mr. Iraj Shakour, Mr. Pedram Abhar were sentenced to 6 years each, and Mrs. Samira Ebrahimi and Ms. Saba Sefidi were each sentenced to 4 years and 5 months in prison.