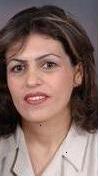 According to Human Rights Activists News Agency, the Revolutionary Court of Semnan has convicted a Baha'i resident to 18 months imprisonment.
According to the court ruling, Mrs. Susan Tebyanian[-Jabbari], a Baha'i resident of Semnan was convicted to 18 months imprisonment.  In the course of her sentencing, the court noted that because of lack of appropriate facilities in Semnan (given her background), one of the prisons in Tehran would be designated for her by the court.
It should be noted her trial took place about a month ago, but the present ruling was issued and communicated on August 12.
[Source: August 18, 2009, hra-news]
The Persian page of the Baha'i World News Service provides further details:
On June 2, 2009, the trial of Mrs. Susan Tebyanian, a Baha'i of Semnan, took place.  She had been arrested on April 27, 2009, and released on bail and surety on May 1.  The court sentenced her to 18 months imprisonment on the following charges:
Formation of illegal groups and societies associated with the Baha'i community under the pretext of "moral training classes"
Membership in illegal groups and societies of the Baha'is, such as, "Education Committee", and "Committee for Training and Education"
Propaganda against the regime and in support of the Baha'is, such as, local gatherings and associations.
[Source: BWNS.  Translations by Iran Press Watch]