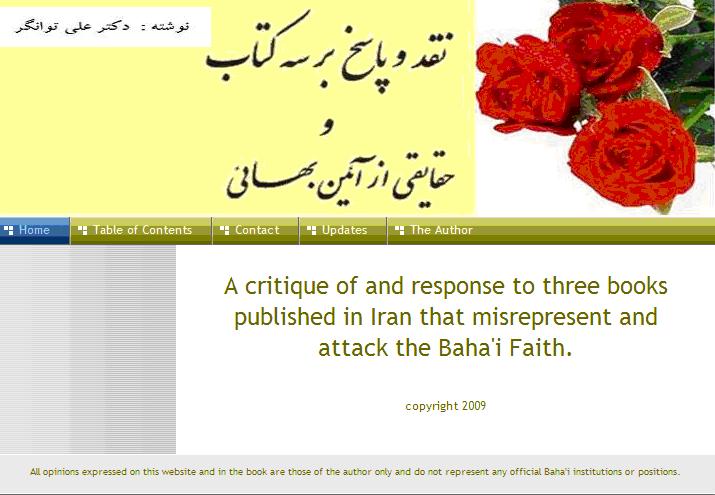 Iran Press Watch is pleased to have learned of the online publication of a new book by Dr. Ali Tavangar entitled, Naqd va Pasukh bar Sih Kitab va Haqa'iqi az A'in Baha'i [critique and response to three books and the truth about the Baha'i Faith] نقد و پاسخ بر سه کتاب و حقایقی از آئین بهائی 
This book is a comprehensive analysis and response to three books that have been recently published in Iran as part of an ongoing and orchestrated campaign to misrepresent and attack the Baha'i community.  It can be accessed at: www.3pasokh.net.
Because of Dr. Tavangar's extensive research and expertise, this book provides a unique opportunity for students of comparative religion as well as Islamic and Iranian literary culture to gain insights into these topics.
Dr. Ali Tavangar is a scholar of Islamic studies and Persian literature with an emphasis on mystical works in Persian such as those of Rumi, Attar, Hafez and others.  He obtained his doctorate in Iranian literature and Islamic studies from the University of Tehran, and subsequently was a lecturer and researcher in this field for several decades.  Among Dr. Tavangar's primary research interests has been the fundamental unity between the core teachings of the world's major religions as evidenced through a study of the various scriptural sources and subsequent commentaries.  In addition to his works and research on Iranian and Islamic topics, he has been engaged in an in-depth study of the verities of the Baha'i Faith and has worked extensively with other scholars in studying original Baha'i texts.
Iran Press Watch congratulates Dr. Tavangar on this important accomplishment and looks forward to an English translation of this seminal contribution.