Source: BahaiNews1
Translation by Iran Press Watch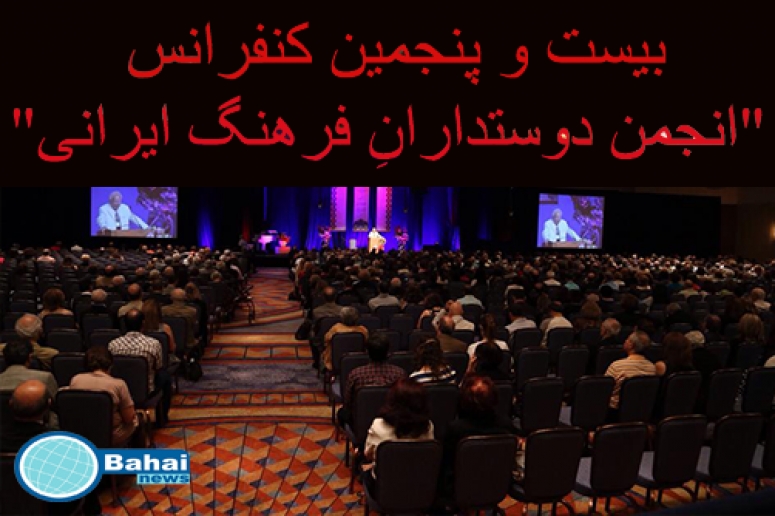 According to "BahaiNews", the 25th Conference of the Association of the Friends of Persian Culture was held in Chicago from 3-6 September, with numerous intellectuals and artists in attendance.
Based on the Association of the Friends of Persian Culture's announcement, more than 2500 registered guests participated in the conference, which was organized by the Baha'i community of the United States of America.
Among the speakers at the forum were:
Shapour Rassekh, a former member of the National Spiritual Assembly of the Baha'is of Iran as well as a member of the National Spiritual Assembly of the Baha'is of Switzerland for ten years, and a former member of the Continental Board of Counsellors of the Baha'i Faith in Europe for 12 years;
Abbas Milani[2], Director of Iranian Studies at Stanford University and invited Professor of the Faculty of Political Science;
Mehrangiz Kar[3], Lawyer, researcher and indefatigable human rights activist;
Ramin Jahanbegloo[4], Chair of Islamic Studies at the University of York;
Nader Saiedi[5], Professor of Baha'i Studies at the Faculty of Languages and Cultures of the Near East at California State University;
Roya Akhavan[6], Professor and Director of Graduate Studies of the Department of Mass Communications, St. Cloud State University;
Reza Zarghami, Director of the Center for Greek Studies at Harvard University;
Naser Ovissi[7], well-known artist;
Arash Narghi[8], Associate Professor of Philosophy and Religion at Moravian College in Pennsylvania;
Ken Bowers, author and current Secretary of the National Spiritual Assembly of the Baha'is of the United States;
Farzaneh Milani[9], Chair of the Department of Middle Eastern and South Asian Languages and Cultures, former director of the Center for Women's Studies at the University of Virginia;
Parisa Badie, artist, and daughter of maestro Rahmatullah Badie;
Dariush Karimi, experienced mass media activist;
And
Maryam Memar Sadeghi.
In addition,
Ferydoon Farah Andooz, Radio and TV producer and anchor; Said Shanbeh Zadeh; Sahba Matlabi; Banafsheh Sayyad; Ramtin Ghazavi.
The musical band known as "25" preformed at the conference. In addition the famous Iranian singer "Sattar" performed a program for the attendees on the fifth of September.
At this Conference, as in the previous years, Pegah Nabil Akbar, an Iranian youth resident in the United States, did a poetry reading.
Ehsan Yarshater, founding member of the Center for Iranian Studies, retired professor at Colombia University and editor-in-chief of the Encyclopedia Iranica, also was in attendance.
---