Source: news.yale.edu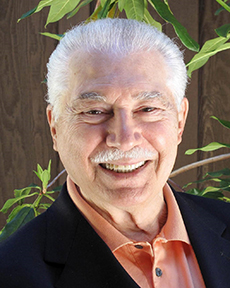 Firuz Kazemzadeh, professor emeritus of history at Yale and former head of Davenport College, died on May 17, in California. He was 92 years old.
Kazemzadeh was a leading member of the American Baha'i community and an ardent champion of international religious freedom,
Born in 1924 in Moscow to a Russian mother and an Iranian diplomat father, Kazemzadeh lived in Soviet Russia until the age of 16, when his family moved to Iran. In 1944, at the height of World War II, he traveled over land from Tehran to Bombay and then across the Pacific to California, where he enrolled at Stanford University.
After completing his undergraduate and master's degrees at Stanford, he enrolled at Harvard University, where he received a Ph.D. in Russian history in 1950. Following a few years teaching at Harvard, Kazemzadeh moved to Yale, where he served in many roles over the years, including as chair of the Department of History and, from 1976 to 1981, as head of Davenport College, one of Yale's 12 residential colleges.  He retired from Yale in 1992.
Kazemzadeh was the author of several books, including "Russia and Britain in Persia, 1864-1914: A Study in Imperialism" (1968, Yale University Press); many of his works have been translated into multiple languages. He is best known for his 1951 seminal work "The Struggle for Transcaucasia (1917-1921)," in which he meticulously mined a treasure trove of documentation in Russian, French, and English in Stanford's Hoover Library to tell the complicated story of the struggle for power among multiple groups in Armenia, Azerbaijan, and Georgia during the transition from imperial Russia to the Soviet Union. He was also a guest lecturer at Stanford University, the University of California-Los Angeles, and Lewis and Clark College.
In addition to his accomplishments as an academic, Kazemzadeh was a leading member of the American Baha'i community, serving on the National Spiritual Assembly of the Baha'is of the United States (the elected Baha'i national governing council) for nearly four decades, and writing extensively on important aspects of the religion and its history.
Following the 1979 Islamic Revolution in Iran, a wave of violent, state-sponsored persecution was unleashed on the Baha'is of that country. Kazemzadeh spearheaded the American Baha'i community's strategy to defend its suffering sister community. Due primarily to his tireless outreach to government officials — many of whom were his former students — he successfully gained official U.S. and international support for the plight of the Baha'is of Iran. By the mid-1980s, this support resulted in a dramatic reduction in the worst abuses, particularly executions of Baha'is, carried out by the Iranian regime.
As a result of this work, in 1998 the former Yale professor was appointed by President Clinton as a commissioner to the newly-established U.S. Commission on International Religious Freedom, on which he served until 2003. In this capacity, he was able to extend his advocacy for religious freedom beyond the Baha'is of Iran to many other faith groups facing persecution based on their beliefs.
Kazemzadeh is survived by his wife, Wilma Ellis Kazemzadeh, and his three daughters: Tatiana, Allegra, and Monireh.