Source: www.bahaicamp.com
Translation by Iran Press Watch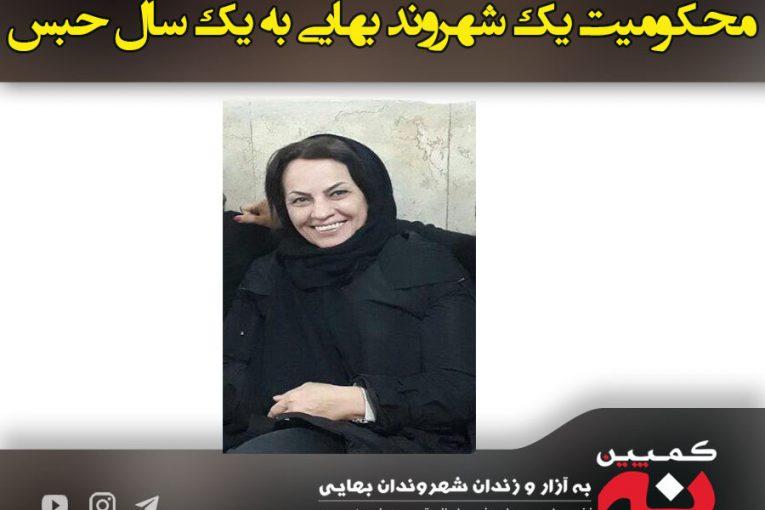 According to HRANA, the Human Rights Activists' News Agency in Iran, Sima Kiani, a Baha'i citizen residing in Shahr-e Rey, has been taken to prison to begin serving a one-year prison sentence.
According to reports from "Not to Harass and Imprison the Baha'i compatriots" campaign, quoting HRANA, on January 27, 2018, Sima Kiani, a Baha'i resident of Shahr-e Rey, was tried and convicted on the charge of propaganda against the regime, and sentenced to one-year in prison by the Shahr-e Rey Revolutionary Court.  Ms. Kiani has been transferred to prison to begin her sentence.
A source close to Ms. Kiani's family reported, "At noon yesterday, Sima was sentenced to one year in prison at the Shahr-e Rey revolutionary court.  After the end of the session, Sima was arrested and transferred to jail."
Ms. Kiani was arrested by Security Forces for the first time in March of 2017 and had been out on bail of 200 million Tomans (equal to $45,000) since April 2017.
It is said that at the time of her arrest. all of Ms. Kiani's books, articles, CDs, as well as her personal computer, were confiscated by Security Forces
Baha'i citizens in Iran are routinely denied religious freedom and systematically excluded from higher education and many forms of employment.  Article 18 of the Universal Declaration of Human Rights and Article 18 of the International Covenant on Civil and Political Rights, which states everyone has the right to freedom of religion and change of religion or belief, as well as the freedom to express it individually or collectively, and openly or in secret.
According to unofficial sources in Iran, there are more than three hundred thousand Baha'is, but the Iranian constitution recognizes only Islam, Christianity, Judaism and Zoroastrians and does not recognize the Baha'i Faith. This has been the rationale for the ongoing violation of Baha'is rights in Iran throughout the year since the Islamic Revolution.