Source: bahaicamp.com
Translation by Iran Press Watch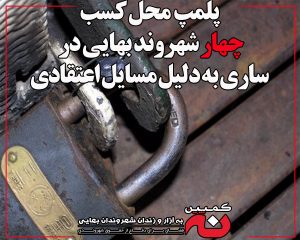 According to reports received by the "NO to the Harassment and Imprisonment of Baha'is" campaign, agents from the Chamber of Commerce went to the shops of three Baha'is in the city of Sari in northern Iran by the names of Yaghoub Akbari, Anbar Aghaie, and Payam Taghavi, and closed their places of business at noon on Tuesday June 30th.
On the same morning other agents of the same office shut down for the second time the business of Mr. Mahin Bakhtroo, a Baha'i from Sari, citing his religious beliefs as an excuse.
That brought the total number of business closures due to ideological issues on that day to four, counting the morning incident.
In the current year, the economic pressure on Baha'is in Iran has grown considerably. In the last few months, the Chamber of Commerce of Sari, after closing three Baha'i businesses because of their  observance of the Ridvan festival ‒ a Baha'i holiday ‒ shut down eleven more Baha'i shops in Sari in the following days to increase economic pressure on these citizens of that city.
The recent punitive closure of Baha'i-owned shops by the authorities of the Islamic Republic has gained momentum. In recent weeks, twelve Baha'i business owners in Rafsanjan in southern Iran faced closure of their shops by the judicial authorities citing the excuse of closing their shops in observance of Baha'i Ridvan holidays.