Source: www.hra-news.org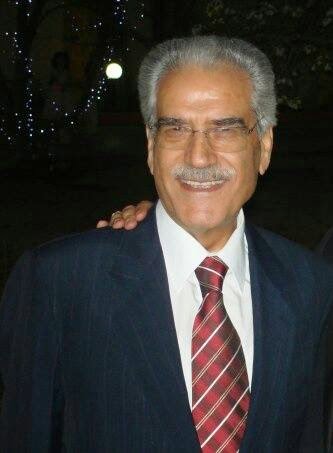 HRANA News Agency – Jamaloddin Khanjani, a member of the leaders of Baha'i community of Iran known as the Yaran, was transferred to hospital for heart problems, and then was returned to Evin Prison again.
According to the HRANA news agency, the news wing of Human Rights Activists in Iran, Jamaloddin Khanjani was transferred to a hospital per directions of the prison doctor, after experiencing heart issues in prison.  Mr. Khanjani underwent surgery, following which, he was transferred back to Evin Prison.
An informed source told HRANA reporter, "A week ago, Mr. Khanjani had heart problems, and a prison doctor diagnosed that his arteries were blocked and should be treated as soon as possible. With the family's efforts he was sent to a hospital outside of the Evin Prison. The doctors noted that since he is over 85 years old, he should no longer stay in prison, and then consulted on treatment and performed an angiography and repaired the damaged arteries and opened one completely blocked vein. After a few days of staying at the CCU, yesterday, Thursday 22 February, he was taken back to the Evin Prison by the security forces."
It is worth noting that Mr. Khanjani, who was born in 1933, and suffers from old age and multiple ailments, has been in prison since May 18, 2008.  Throughout his 10-year term he has not been allowed a single day of leave.  Security and Judicial authorities did not even allow him to attend his wife's funeral. Previously, in 2014, Mr. Khanjani was also transferred to the hospital for his ongoing health issues. His sentence will be completed on March 22 of this year.
Jamaloddin Khanjani arrested on 24 July 2008, along with the six other Baha'i community leaders known as the Yaran; Saeid Rezaie, Mahvash Shahriari, Fariba Kamalabadi, Afif Naeimi, Behrouz Tavakkoli and Vahid Tizfahm.  They were charged with "assembly and collusion against national security", "propaganda against the regime", and "espionage" by Branch 28 of Tehran's Revolutionary Court. Judge Mogheiseh handed down sentences of 20 years each, which was announced by The Tehran Security Court, in February 2009. Each of 20-year sentences were later reduced to 10 years.
Saeed Rezaie, Mahvash Shahriari, Fariba Kamalabadi, and Behrouz Tavakkoli have completed their sentences and have been released. Jamaloddin Khanjani and Vahid Tizfahm remain in prison. Afif Naeimi is currently on medical leave.