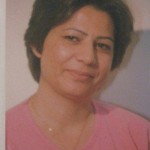 (Human Rights Reporters of Iran – RAHANA) Roya [Ruhiyyih] Yazdani, a Bahai, has been released from prison.
Roya Yazdani [see http://www.iranpresswatch.org/post/343], a Bahai who was convicted to two years of imprisonment, has been released after completing her prison sentence.
According to RAHANA reporters, Roya Yazdani was arrested in 1387 (2008). This Baha'i, who was sentenced to two years in prison by a court order, was imprisoned in Yasuj prison for the entirety of her term; although, due to severe back pain she was able to spend 10 days out of prison beginning Mehr 8th (September 30th).
—
Translation by Iran Press Watch
Source: http://www.iranpresswatch.org/fa/post/1568, http://www.rahana.org/archives/28577