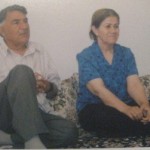 Wednesday Aban 5th 1389 (October 27th, 2010) – Human Rights Reporters of Iran – RAHANA
Two Baha'i who were completing their prison terms in Yasuj have been released from prison.
According to RAHANA reporters, Zulaykha Musavi and  'Ali-Askar Ravanbakhsh [see http://www.iranpresswatch.org/post/242], a married couple, were arrested in Aban 1387 (October-November 2008); after spending their term in Yasuj prison, they have been released. The court had sentenced this couple to two years of imprisonment.
—
Translation by Iran Press Watch.
Source: http://www.iranpresswatch.org/fa/post/1572, http://www.rahana.org/archives/28580