Source: iranwire.com
Kian Sabeti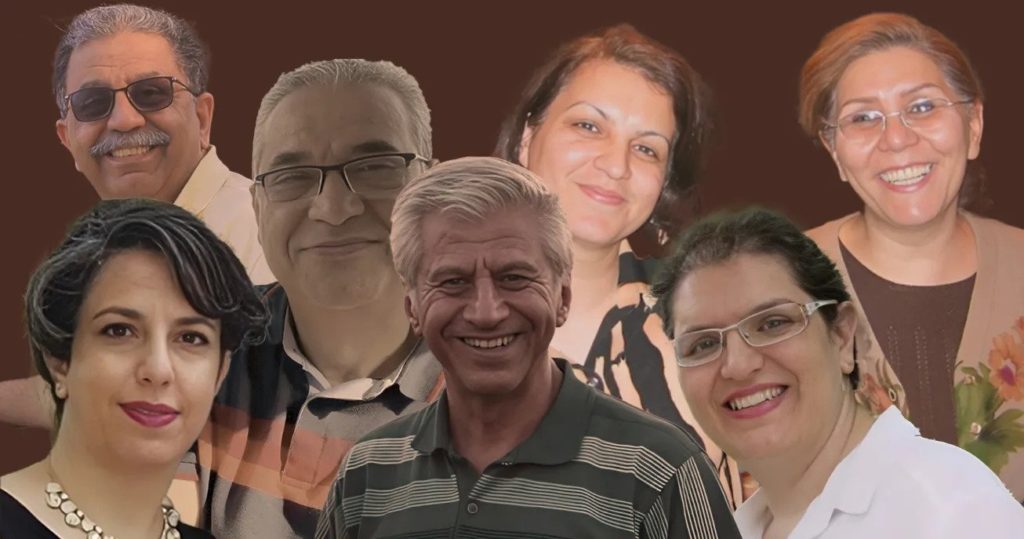 Late June to late July of this year has been one of the more difficult months for the Baha'is in Iran. And even since March, in an escalating situation with a Ministry of Intelligence official, Baha'is in Tehran have been denied of the right to bury their dead in a Baha'i-owned cemetery in the city. After days and sometimes after weeks of being left in the morgue of the larger Behesht Zahra Cemetery, in the south of Tehran, the Baha'i dead have been buried in the mass graves of the victims of the 1980s mass executions without informing the families and without Baha'i religious rites and ceremonies. The Baha'i International Community has condemned this situation in repeated statements as not only a violation of the rights of the Baha'i families in Iran – but also as a deep disrespect to those other Iranians buried in these mass graves. And earlier in July, Mehdi Khazali, a publisher close to the Iranian authorities, was filmed spreading disinformation about the Tehran Baha'i cemetery.
Other absurd and public attacks on Baha'is also continue unabated. On July 7, close to a year after the Woman, Life, Freedom uprising swept across Iran after the death of Mahsa Amini in the custody of the so-called "morality police," Hojatoleslam Kazem Sadighi, Tehran's Friday prayers preacher, claimed that women who refuse to comply with forced hijab are either Baha'is or have been paid off.
Tens of Baha'is have also been given long prison sentences over the past month – just because of their beliefs. Several have been arrested and some sent to prison to begin their sentences.
Revolutionary Courts in various cities across Iran have sentenced 37 Baha'is to prison on misleading charges such as "membership in an outlawed group" or "propaganda against the state," over the past month, whereas their only crime was their faith. The judges in these cases have issued the maximum sentences for these charges and have imposed additional penalties such as fines, bans on leaving the country, and exile.
Another additional penalty has been restrictions on the rights of the convicted. The restrictions have been imposed despite the fact that for almost 45 years Iranian Baha'is have already been deprived of the most basic civil rights including access to higher education, employment at government and state-affiliated organizations, the right to hold religious gatherings, the right to publish journals or books and even the right to ask for the recognition as "martyrs," or acknowledged casualties, for loved ones who lost their lives to defending Iran during the Iran-Iraq war.
13 Baha'is Convicted in Karaj
The 40-month and seven-month prison sentences of 13 Baha'i citizens in Karaj, near Tehran, were upheld without any changes by Branch 12 of the Karaj Revolutionary Appeals Court. IranWire cannot verify when exactly the original sentences were first handed down. According to the verdict, after serving their prison sentences, the convicted Baha'is are banned from leaving the country for two years, must live in exile from their hometown for two years, cannot engage in educational or cultural activities for two years and their civil rights will be restricted for five years. Among the convicted and their sentences are:
Afif Naeimi. Charged with forming a group aimed at undermining national security through teaching the Baha'i faith to children and adolescents and playing an "effective" role in organizing educational institutions for the Baha'is. He was sentenced to seven years in prison and a cash fine of five billion tomans or nearly $10,000.
Saman Ostovar and Kamyar Habibi. Charged with "insulting and propaganda against Islamic Sharia, forming and participating in groups to act against national security through teaching and preaching the Baha'i faith to children in kindergartens, promoting against Islamic Sharia through holding coaching courses," both were sentenced to five years in prison and a cash fine of 50 million tomans or almost $1,100.
The other 10 Baha'is were charged with "insulting and propaganda against Islamic Sharia through teaching and preaching the Baha'i faith to children in kindergartens". Elham Eshraghi and Raheleh Tirgarnejad, Kamyar Habibi's wife, were each sentenced to three years in prison and a cash fine of 30 million tomans or $620. The other eight defendants were each sentenced to 25 months in prison.
14 Baha'is Convicted in Qaem Shahr, Mazandaran
Judge Faghihian of Qaem Shahr Revolutionary Court, meanwhile, sentenced 13 young Baha'is to a total of 31 years in prison on the charge of "propaganda and educational activities contrary to Islamic Sharia."
According to the verdict, Sanaz Hekmat-Shoar and Bita Haghighi were each sentenced to three years in prison and a cash fine of 30 million tomans or $620. Samiyeh Gholinejad, Mahsa Fathi, Basir Samimi, Anis Sanaie, Nazanin Goli, Negar Darabi, Hengameh Alipour, Golbon Fallah, Afnaneh Nematian, Mojir Samimi, Sam Samimi and Mani Gholinejad were each sentenced to two years and one month in prison.
These Baha'is were arrested in the late summer of 2022 and were later released on bail. There are reports that some were beaten during the interrogations.
Four Baha'is Convicted Over Tehran's Baha'i Cemetery
On May 1, following the refusal of Behesht Zahra Cemetery officials to hand over the bodies of deceased Baha'is to their families, a member of one of these families, Shadi Shahidzadeh, was arrested. The remains of her grandmother had been among those of deceased Baha'is to be held by cemetery officials against the wishes of Baha'i families. And on the same day, three other Baha'is, Valiollah Ghadamian, Mansour Amini and Ataullah Zafar, who had been assisting other Tehran Baha'is with the burial of deceased loved ones in the city's Baha'i cemetery, were also arrested.
The four have spent two months in detention so far and have now each been sentenced to five years in prison, a two-year ban on living in Tehran and neighboring provinces, a two-year ban on leaving the country, and a two-year ban on membership in political and civil groups on the charge of "membership in an illegal group aimed at undermining national security." The sentence of "membership in an illegal group" was a reference to the Baha'i faith itself – betraying how the Iranian authorities see the Baha'is not as a faith community but a proscribed group.
Baha'i Married Couple Sentenced to Prison in Rasht
In late June, Branch 3 of the Revolutionary Court in Rasht, Chief Judge Mehdi Rasakhi presiding, sentenced Vasal Momtazi and Anisa Samiyan, a Baha'i couple, to a total of nine years, six months and four days in prison.
They were charged with "propaganda against the state," "educational activities contrary to Islam" and "insulting Islam and the Supreme Leader." Vasal Momtazi was sentenced to five years, four months and 17 days in prison and a cash fine of 38 million tomans or $790. Anisa Samiyan was sentenced to four years, one month and 17 days in prison and restrictions on civil rights for 10 years and one day.
This Baha'i couple are parents to two children, a five year old and a newborn baby.
Four Baha'is Sentenced to Prison in Various Cities
In the past month, four Baha'is in the cities of Isfahan, Tehran and Rasht were sentenced to a total of 22 years in prison and to additional penalties. These four were convicted on the usual charges of propaganda against the state, gathering and conspiracy against national security and insulting the sacred.
Sara Sabet Rasekh was sentenced by Isfahan Court of Appeals to eight years in prison. Since February 7, 2023, Sabet has been serving her previous one-year sentence outside of prison with electronic curfew tags. She will serve five years for "blasphemy," two years for "insulting the former and current supreme leaders of Iran," and one year for "propaganda against the regime".
After eight months in detention, Hami Bahadori was sentenced to six years in prison and a two-year ban on leaving the country by Judge Salavati of Branch 15 of Tehran Revolutionary Court. Bahadori was sentenced to five years in prison on charges of "gathering and collusion," with an additional one-year prison term for spreading "propaganda against the Islamic Republic under the guise of preaching for Baha'is". The judge also ordered the confiscation of belongings seized by authorities from Bahadori and his wife. These items included an iMac, laptop, a camera with three lenses, hard drive, internet modem and gold.
Hooshidar Zarei, a judo coach and champion in Shiraz, was sentenced by the lower Shiraz Revolutionary Court to six years in prison, along with additional penalties, including a two-year ban on leaving the country, a fine, a two year ban on activities in cyberspace and restrictions on civil rights for five years.
Gilan province's Court of Appeals upheld the lower court's verdict against Homayoun Khanlari, a Baha'i resident of Rasht. The lower court had sentenced Khanlari to two years and one day in prison, a fine of 50 million tomans or $1,100 and a 10-year restriction on civil rights.
Arrests to Begin Serving Prison Sentences
On July 12, five Baha'is, identified as Foad Shaker, Shahram Fallah, Yekta Fallah, Behnam Pour-Ahmadi and Paridokht Shojaei were arrested by agents of the Intelligence Ministry in Kerman and, on July 18, security agents arrested a Baha'i named Keyvan Rahimian at his home in Tehran, taking him to Evin Prison.
Also in July, three other Baha'i citizens were arrested and taken to prison to start serving their sentences. Mahvash Edalati and Sepideh Keshavarz were taken to serve their one-year sentences and Shayan Sanaei, a resident of Bojnourd, was remanded to prison to begin his five-month sentence.
From among Baha'i citizens already serving prison sentences, IranWire is aware of the cases of Sepehr Ziaei, serving a five-year sentence at Evin Prison, Payam Vali, serving a six-year sentence at Ghezelhessar Prison in Karaj and Enayatollah Naeimi in Isfahan who has been sentenced to 15 years in prison.
A new case has also been opened against Payam Vali while he has been serving his current sentence. Karaj Revolutionary Court has accused Vali of "spreading falsehood on the internet through the dissemination of unlawful content."
Open-Ended Detention of Baha'is
A number of Baha'is in Iran have been in detention for months without receiving a final verdict in their cases.
Two Iranian Baha'i women, Fariba Kamalabadi and Mahvash Sabet, who have previously spent 10 years in Tehran's Evin Prison as prisoners of conscience because of their Baha'i beliefs, were arrested on July 31, 2022, at their homes and have since been held at Evin. After a one-hour trial on November 21, 2022, in Tehran, almost four months after their arrest, Judge Iman Afshari, presiding over the Revolutionary Court's Branch 26, reportedly rebuked the two women for "not having learned their lesson" after their first incarceration and sentenced them to another 10 years in prison. For the past seven months, these two have awaited the verdict to their legal appeal.
On March 28, Nahaleh Shahidi Yazdi, a resident of Karaj, was arrested by agents of the Intelligence Ministry in the train station as she was returning from Kerman to Karaj. She has been in temporary detention at Kerman Prison for more than 115 days.
And Sanaz Tafazoli, a Baha'i resident of Mashhad, has been under arrest at Vakilabad Prison in the city for eight months. She was tried on July 15 at Branch 1 of Mashhad Revolutionary Court, presided by Judge Mansouri, but a verdict has yet to be announced.
On the whole, in the past month, the Islamic Republic has sentenced Baha'is to a total of 123 years in prison and has fined them 5.298 billion tomans or close to $111,000. Their only crime: belief in Baha'i faith.